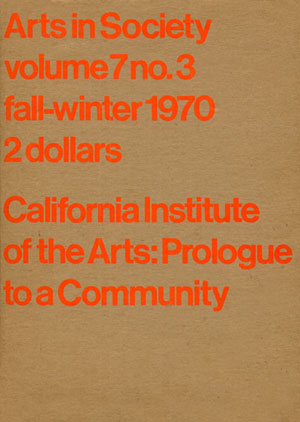 [nggallery id=9]
More than any other publication, California Institute of the Arts: Prologue to a Community captures the essential character of CalArts at its beginning. It is at once a document of the formation of the Institute, a snapshot of the cultural climate of 1970 and a political statement about modernism and design.
Prologue was a special issue of the University of Wisconsin's progressive arts journal Arts in Society, compiled and designed by founding CalArts design faculty member Sheila Levrant de Bretteville. The content comprises original letters, memos and printed matter documenting the planning of the Institute, the work of faculty members, and photos of the cultural context in which the Institute's planning took place. What's most interesting and telling about the content is its seemingly freeform, nonhierarchical arrangement and the diversity of voices that are allowed to challenge and at times contradict one another. This was all part of a deliberate design strategy, as de Bretteville explained in a 1973 essay in the periodical Icographic:
The organization of the magazine purposefully avoided the presentation of information in a simple, clearly logical linear manner. Instead, it was diffuse and depended on repetition of similar content, similar forms, cycles, leitmotifs, in both writing and imagery…. The tentativeness of fragmented organization encouraged the reader to participate in the ultimate conceptualization of the community.
De Bretteville, who was active in CalArts' Feminist Art Program and founder of the Women's Design Program, saw linear, hierarchical structures in general and modernism's direct, simplified forms in particular as essentially male and inherently oppressive. She sought an alternative narrative structure that allowed a multiplicity of voices and interpretations, and that encouraged the active participation of the reader in defining what CalArts was to be. In this, Prologue can be seen both as an early example of postmodernism in design and as a reflection of the Institute's own conceptual and countercultural underpinnings.
Note: Joe Molloy, a 1972 graduate of the program in Graphic Design, once told me that he decided to apply to CalArts after seeing a copy of Prologue on a San Francisco newsstand. A school that could produce such a radical and thought-provoking piece of publicity was someplace he felt he needed to be. I think it still makes as eloquent a case for CalArts now as it did then.