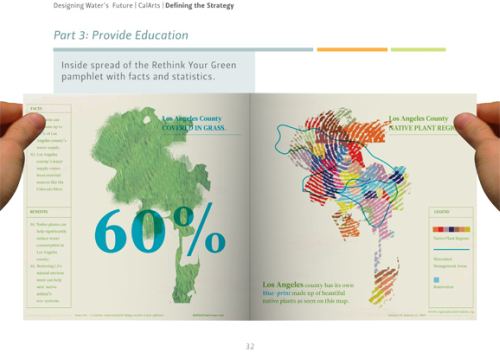 On Aug. 25, a team of CalArts student designers heads to Copenhagen, Denmark, as one of seven finalists in the inaugural INDEX:|AIGA Aspen Design Challenge. Organized by AIGA, the professional association for design, and INDEX, a global nonprofit design network, this major international competition called on creative thinkers to come up with creative solutions to address the global water crisis.
The CalArts group—Manuel Garcia, Eileen Hsu, Pouya Jahanshahi, Masato Nakada, Michelle Park and Maece Seirafi-Najar—developed a print and web campaign called Rethink Your Green. The campaign uses upbeat messages with plenty of colorful, punchy imagery to build public awareness of the impact of traditional grass lawns has on the strained water supplies of the Los Angeles region.
It also promotes more "creative" gardening options that incorporate drought-resistant plants native to California and other sustainable alternatives. The Rethink Your Green project was selected from among 450 international entries in the "Designing Water's Future" challenge.
In Copenhagen, the team will meet with socially conscious entrepreneurs, business leaders and foundations for a three-day collaborative workshop to search for sustainable economic and logistical support. On Aug. 28, one finalist team will be awarded the INDEX: | AIGA Aspen Design Challenge Prize, a $10,000 grant to help implement the winning project.
"It really would be amazing if our students won, but that's no longer the point. They've realized that design isn't something trivial or superficial—and that will affect what they do as people and designers for the rest of their lives," said Louise Sandhaus, the team's faculty adviser. "Regardless of the outcome, they are now able to recognize that they have the tools, skills and empowerment to create social change."