Lauren Strasnick (Critical Studies MFA 05) wrote her first short story, "Yours Truly, The Girls from Bunk Six," in a cloth-bound 5×4 journal, in the fifth grade. She's come a long way since then: Her first book of young adult (YA) fiction—Nothing Like You (Simon & Schuster) was released on Tuesday. On Saturday (Oct. 24), the Los Angeles resident reads and signs her novel at Skylight Books in Los Angeles.
24700 did an e-mail interview earlier this week with Strasnick as she celebrates her book's publication:
24700: Where are you from originally?
LS: I was born in Boston, but raised in Connecticut.
24700: What's Nothing Like You about? Relationships?
LS: Nothing Like You is about high school senior, Holly Hirsh.  Holly's mom dies and Holly gets involved with the wrong guy. He's got a girlfriend. She and Holly develop a friendship. Disaster ensues! Okay, basically:  teen girl grapples with grief and seeks solace in all the wrong places. Poor Holly. Boys and liquor! Bad news.
24700: Would you file the book under the chick lit genre? Do you mind the label?
LS: I think of Chick Lit as light, fun fiction geared more toward young, professional women–books about men, martinis, shopping.  I think there is absolutely a YA (young adult) equivalent–beach reads for the 14-plus crowd–I'm not sure my book fits the criteria. I'd categorize it as contemporary young adult. I think the reason there's such tension around that term–Chick Lit–is because most fiction by women, for women–gets slapped with that label–regardless of theme or content.  I mean, at the end of the day, who really cares, so long as you're selling books, right?  But, you know, guys write novels, they're called novels. But women…?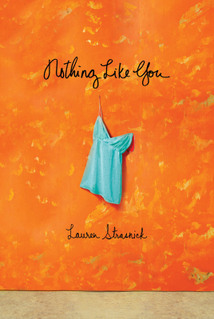 24700: Fiction is often spun from true life stories…where did this book come from? What was your inspiration?
LS: Writing is kind of like collaging–I take a piece from my own life and smoosh it together with something that happened to a friend.  I pull from music, bad TV, old movies–an idea I've been obsessing on for months.  Eventually, I've pieced together some sort of story.  This particular book was born from a mash up of stuff I'd been pondering:  death, infidelity, psychics, the afterlife, cute dogs, potato tacos, Topanga, brush fires, sex in cars, canyon hikes.
24700: How did your book get picked up by Simon & Schuster?
LS: I spent the year after graduation subbing my thesis (a different YA novel) to agents. After a ton of rejection, some near misses, I tucked that manuscript away and started another.  When I was through, I started the process all over again–querying contacts I'd made the previous year.  I signed with my agency soon after that, and spent a couple of months revising the book before it went out to editors. Simon Pulse/S&S made a preemptive offer a few weeks later. We happily accepted, same day.
24700: What's the best piece of writing advice you've ever received?
LS: Oh–"Be fearless."  A professor in undergrad passed on that little nugget of wisdom and still, it helps me daily.  Be fearless with your work!  I'm no good at fearlessness in life, so I try to be as brave as possible on the page.
Author event with Lauren Strasnick
Skylight Books
1818 N. Vermont Ave., Los Angeles
Saturday, Oct. 24
5 pm