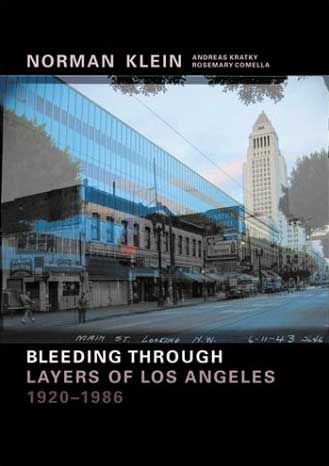 The production Bleeding Through opens this weekend at Shakespeare Festival/LA in Downtown Los Angeles. Co-written & co-directed by Theresa Chavez and Rose Portillo for Pasadena-based About Productions, the work is inspired by and adapted from a multimedia novella by CalArts' Critical Studies faculty Norman Klein.
His narrative work, Bleeding Through: Layers of Los Angeles, 1920-1986, created in collaboration with Rosemary Comella and Andreas Kratky, mixes media and genres and examines the city of Angels, through the lens of the Angelino Heights neighborhood. The area is one of LA's first suburbs, most noted for the old Victorians that still dot either side of Carroll Avenue. The area has served as cinematic backdrop in a number of films and other media, including Chinatown, Charmed and Michael Jackson's "Thriller" video.
About Productions describes the adaptation:
A theatrical layering of live music, video and interactive setting, Bleeding Through uncovers the narrative ghosts of L.A.'s Historic Angelino Heights District and the adjacent Downtown area—a neighborhood where more cinematic 'murders' have occurred than anywhere else in the world. This noir-influenced theaterwork, adapted from Norman Klein's highly praised novella, explores the shaping of a city's memory by commonplace experiences, chronicled history and cinematic influences.
There are two other CalArts' connections in the production: Its original music was composed by Vinny Golia, a faculty member at The Herb Alpert School of Music at CalArts, and the company's artistic director Theresa Chavez is also an alum (Art BFA 85 MFA 87).
Bleeding Through
Shakespeare Festival/LA
1238 W. 1st St., Los Angeles
Oct. 23-Nov. 22
Thurs.-Sat. at 8PM; Sun. at 3PM
Tickets: General: $25 Fri.-Sun.; $20 Thur.; Students/Seniors: $20 Fri.-Sun.; $15 Thurs.; Groups (6+): $10
*The play opens on Saturday (Oct. 31). The $40 ticket includes a post-play Noir Costume Party.