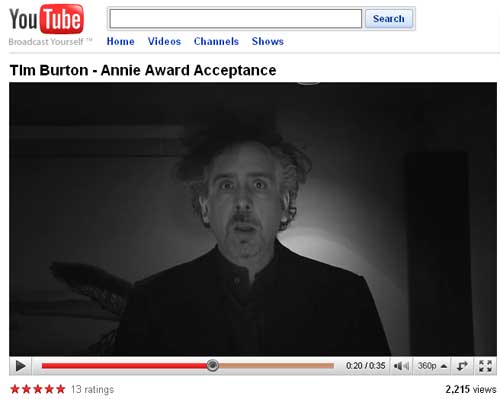 The awards season cavalcade continued over the weekend with the presentation of the Annie Awards, the highest honors in animation.
The winners included CalArts alumni Pete Docter (Film/Video BFA 90), who collected the Annie for Directing in a Feature Production for helming Disney/Pixar's Up, and Shane Prigmore (Film/Video 99), who received the prize for Character Design in a Feature Production for his work on Coraline, directed by Henry Selick (Film/Video MFA 77).
Up, which was co-executive produced by John Lasseter (Film/Video BFA 79) and Andrew Stanton (Film/Video BFA 87), won the Annie for Best Animated Feature.
Up and Coraline, as well as The Princess and the Frog, co-directed by John Musker (Film/Video 77), will contend next month for the Oscar for Best Animated Feature Film of the Year. Up is also nominated for Best Picture of the Year at the Academy Awards.
Two other CalArtians–Tim Burton (Film/Video BFA 1979) and Jeffrey Katzenberg, CalArts' Trustee Emeritus–were named recipients of the Winsor McCay Award, which honors lifetime contributions to the art of animation. Burton's great acceptance speech (posted above) pays homage to The Grudge.
The Annie Awards are presented by ASIFA–Hollywood, the L.A. chapter of the International Animated Film Society. The awards ceremony, hosted this year by William Shatner, was held in Westwood at Royce Hall.