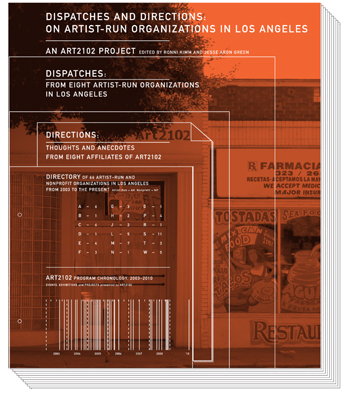 Tomorrow (Jan. 15) the LA-based arts organization Art2102 holds a launch event for the compendium Dispatches and Directions: On Artist-Run Organizations in Los Angeles.
Edited by Ronni Kimm and Jesse Aron Green, the book highlights artists-run project spaces and collaborations that are currently active in LA, including Artist Curated Project, ESL, Genesis Project, Los Angeles, MATERIAL, Monte Vista, Slab, Telic Arts Exchange and Wildness.
The publication helps readers navigate the waters of the LA arts world by providing a directory and thoughts and observations from LA artists, advocates and curators including Kate Fowle, Art 2102 co-director, artist Paul McCarthy and CalArts' School of Art Dean Thomas Lawson.
Lawson will also be participating in tomorrow's launch event, discussing "art schools, information exchange and the context of LA as a productive space." Joining him in the conversation are Piero Golia and moderator Sarah Lehrer-Graiwer. Other panels are:
Giles Miller and Wu Tsang, moderated by Jennifer Doyle: On performance, spaces and community;
Eve Fowler and Davida Nemeroff, moderated by Dorit Cypis: On organizing as part of practice, and artist as curators; and
Lauri Firstenberg and Renaud Proch, moderated by Yunhee Min: On notions of independence and being alternative in the LA art world.
Dispatches and Directions Launch Event
LA><ART
2640 S. La Cienega Blvd., Los Angeles
Saturday, Jan. 15 from 2 to 6 pm
Ending reception from 6-8 pm at Mandrake Bar