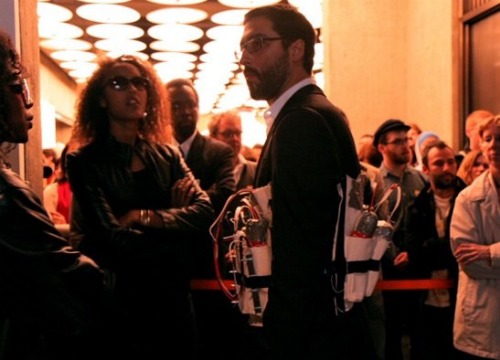 In a live, multimedia performance, Lars Jan (Theater MFA 08) and the Early Morning Opera invite Los Angeles to witness A Suicide Bombing by Invitation Only.
The work—which runs tomorrow (June 16) through Saturday at the Hi-Lite Gallery in Downtown LA—blurs the line between theatrical production and gallery installation.
"Lars is turning a suicide bombing into a red-carpet event," said co-producer Miranda Wright (Theater MFA 09). "He's capitalizing on current fears, events and cultural references, as seen through the lens of celebrity."
Jan's Early Morning Opera, an LA-based multidisciplinary art lab which he began at CalArts, is dedicated to using "new technologies to create baroque events." His oeuvre, marked by a desire to reduce tensions between Western and Islamic countries through cultural exchange and satire, reflects his background as the son of an Afghan mother and Polish father who both fled the Soviet occupation of their countries.
For the current production, Early Morning Opera is working with a number of CalArts' School of Theater alumni, including actors Steven Borello (BFA 11), Liz Yoakem (BFA 08), Will Green (MFA 09), Jenny Nelson (BFA 10), Liam Springthorpe (BFA 08); lighting designer Chris Kuhl (BFA 05), designer Pablo Molina (MFA 07); sound designer Bryan Maier (MFA 09); production manager Jenny Koblosky (MFA 09); technical directors Thomas East (BFA 10) and Lesley Fairman (BFA 11); and John Choi, a current BFA music student.
Suicide Bombing by Invitation Only was originally commissioned by and performed at the Whitney Museum, and this week's performances mark the piece's West Coast premiere.
Suicide Bombing by Invitation Only
Hi-Lite Gallery
533 South Los Angeles Street, Sixth Floor, Los Angeles
June 16 and 17 at 9:30 pm
June 18 at 7:30
Tickets: $10 to $100
Previously on 24700: Q&A with Lars Jan