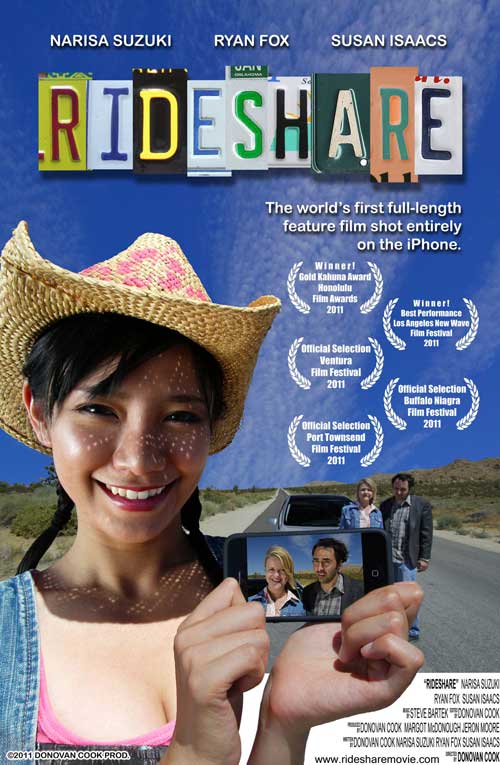 Rideshare is an experimental, full-length feature comedy about three strangers who answer a Craigslist ad and drive a car for its owner from LA to Washington, DC.
Directed and co-produced by Donavan Cook (Film/Video BFA 90), the film is being touted as the first feature shot in its entirety on an HD iPhone 4. It makes its West Coast premiere at the Ventura Film Festival on July 16.
Shot in just 16 days with a cast and crew of 16 people across nine states, the largely improvisational film was made for just $34,000. Rideshare includes the iPhone 4 as a key plot device: The characters become cinematographers because the owner of the vehicle wants to keep track of the trio's progress across the country and make sure that the highway hijinx are kept to a minimum.
Blogger Jared Mobarak caught the film earlier this spring at the Buffalo Niagra Film Festival. In his review, he writes:
With the plethora of distribution strategies at filmmakers' disposal these days—VOD, Direct to DVD, internet download—we are going to see more and more quality entertainment like this ignoring box office returns for avenues catered to its specific strengths. And while I love the theatrical experience and never want to see it die off—I did luckily get to see this in such a venue—the new age of cinema can only be good. Creative minds like writer/director

Donovan Cook

are now allowed the freedom to experiment and create within their means and we as an audience get to enjoy the fruits of their labor.
Here's a clip from the film:
Rideshare
Ventura Film Festival
Century 10 Downtown Ventura Theater
555 E. Main St., Ventura, Calif.
4 pm
$16

There will be an after party at the Ventura Beach Marriott.