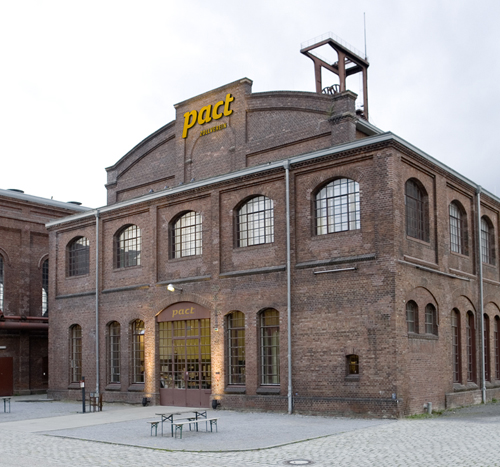 A contingent of the CalArts community consisting of students and recent graduates representing all six schools descends on Essen, Germany, to present new works at PACT Zollverein on Sept. 29-Oct. 2. Part of the larger Ruhrtriennale 2011 festival, the event features a diverse body of work that emphasizes the experimental and collaborative aspects of the community.
Dubbed CalArts Plays Itself, a reference to CalArts faculty member Thom Andersen's 2003 film, Los Angeles Plays Itself, the CalArtian collective presents sculpture, sound and video installation, film and photography in the studios, hallways, lobby and terrace of a historic building that formerly housed the baths and showers of a factory. Many of the showcased works are created onsite, and address the region's social and urban issues. The festival also includes a symposium featuring theorists working on the crossroads of art, critical studies, and politics today.
The event marks the first time that CalArts has formally presented the work of its students in Europe as well as the first time a college or institution of higher learning has been invited to participate on this scale at the Ruhrtriennale.
Watch Live Programming
Two programs from will be live-streamed from PACT Zollverein.
On Friday (Sept. 30) at 11:00 am, there will be a public viewing in CalArts' Main Gallery Conference Room with performances that include:
Dark Fare: An experimental performance trio comprising Chiara Giovando (Film/Video MFA 11), Kristín Þóra Haraldsdóttir (Music MFA 11) and Stephanie Smith (Music MFA 11).
Luminis Sphaera: A performance group that incorporates sound, movement, interactive technology and projection. The piece utilizes graphical scores that reference the elemental building blocks of the iron and steel industries central to PACT's history. 
Featuring the work of Archie Carey (Music MFA 11), Kerstin Hovland (Film/Video MFA 3), Heather Lockie (Music MFA 2), Natalie Metzger (Dance MFA 11) and Kalean Ung (Theater MFA 3).
"2": A performance for piano and multimedia projections composed by Milen Kirov (Music DMA) as part of his doctorate studies in The Herb Alpert School of Music at CalArts. Utilizing animation and film elements created by Kerstin Hovland (Film/Video MFA 3) and Emilie Sabath (Film/Video MFA 3), "2" employs the sounds of an electric piano together with prerecorded and live-triggered sounds.
On Saturday (Oct. 1) at 10 am, a program of dance performances, Derivations, will be streamed live on USTREAM and viewable online. (The link address will be posted closer to the event.) The works are:
a,e,i,o,u,y:  A multilayered work by choreographer/dancer Andrew Wojtal (Dance BFA 4) that braids together different forms of physical theater to express a singular energy through variously accrued mediums.
Symbiosis Mutualism: An exploration of human interaction with horses by choreographers Jordan Saenz (Dance BFA 4), Cameron Evans (Dance BFA 11) and Princess Mecca Romero (Dance BFA 11).
a person I once was: Through keen sense of invention and a distinct choreographic language, developed by Rachel Boyajian (Dance MFA 11), a person I once was explores the fragility of human cognition and acuity.
To learn more about CalArts Plays Itself, check the complete schedule, project descriptions, and a daily blog with regular updates throughout the event.
If you're a Twitter user, follow the hashtag #CalArtsPACT during the week.
Below is a trailer for the School of Film/Video's presentation:

CalArts Plays Itself
Ruhrtriennale 2011
PACT Zollverein
Essen, Germany
Sept. 29 – Oct. 2
Schedule | Tickets