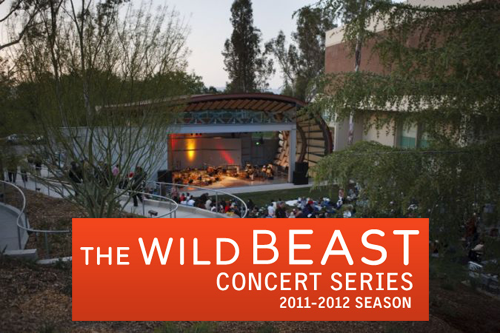 Now in its second year, The Wild Beast Concert Series kicks off this Saturday (Oct. 1) with a concert, CalArts Capitol Jazz, at 4 pm at The Wild Beast Pavilion at CalArts.
The outdoor concert features an eclectic lineup of 10 CalArts jazz bands, performing numbers that encompass the spectrum of jazz sounds: Latin, world-inflected, free, experimental, traditional, be-bop and fusion jazz.
From the concert's organizers:
For the past 22 years, Capitol Records, a subsidiary of EMI, has sponsored the annual CalArts Jazz CD, a selection of the most compelling performers and works coming out of the CalArts Jazz Program in the previous year, recorded and mastered in the legendary Capitol Records Studios in Hollywood. This concert represents the first step on the road toward Capitol's stack of wax for these talented young musicians.
To stream or download any of the 22 CalArts Jazz CDs for free, visit the CalArts Jazz CD Archive.
Below is Track 3 off of the CalArts Jazz CD 2011, titled 144 by Lauren Baba (Music MFA 2):
[audio:https://live-calarts-blog.pantheonsite.io/wp-content/uploads/2011/09/03144.mp3|titles='144′ by Lauren Baba]
CalArts Capitol Jazz
Wild Beast Concert Series
Sat, Oct. 1, 4 pm
Wild Beast, CalArts
Free