Two productions recently opened in Downtown Los Angeles that showcase the work of newly appointed CalArts Faculty member and actor Roger Guenveur Smith and alumna playwright Virginia Grise (Theater MFA 09).
Juan and John
Created and performed by Smith, Juan and John—remounted at the Los Angeles Theater Center—is inspired by the remarkable friendship of baseball greats Juan Marichal (San Francisco Giants) and John Roseboro (Los Angeles Dodgers). It opened on Thursday (Oct. 20) and runs through Nov. 13.
The unlikely friendship started on an infamous foot in August 1965 when Marichal turned and hit Roseboro in the head with his baseball bat during a heated game between the Giants and Dodgers. Smith watched the altercation live on television, and Juan and John presents a story about redemption and forgiveness within the context of baseball and the Watts Riots (which also happened in August 1965).
From a Los Angeles Times review of an earlier production:
The connection between these unrelated events isn't simply their close chronology. Smith declines to spell out what it is, but the reality of black-on-black violence — the image of the Dominican Dandy bloodying the head of his African American baseball hero, the spectacle of looters running amok outside his father's motel — seems to have startled his younger self into a precocious awareness of adult failure. Or do I simply mean adulthood? The view, after all, is compassionate and ever-alert to the broader injustices of racism, oppression and institutional brutality bearing down on these divergent situations.
Teaming up with The Latino Theater Company and sound and projection designer Marc Anthony Thompson, Smith will play both baseball legends in a solo performance complemented by Thompson's score and projections.
Blu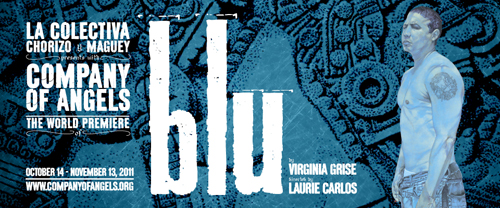 Grise's play, blu, which started as a CalArts School of Theater production in 2008, later went on to win the 2010 Yale Drama Series competition. On Oct. 14, blu had its official world premiere at The Alexandria in Downtown Los Angeles.
From Company of Angels:
Set in Barrio, USA, Virginia Grise's blu traces the explosive after-effects of prison and hunger, desire and war. Told in a heightened poetic language of street talk, the play follows a queer Chicana/o family as they try to envision an earth and sky without police and their helicopters. … blu is a tattooed offering to Los Angeles audiences, the gods and the ancestors that might be listening.
There is a post-show discussion, moderated by CalArts Theater faculty Rafael Lopez-Barrantes, and a book signing immediately following Saturday's (Oct. 29) 8 pm performance.
Juan and John
The Los Angeles Theatre Center
514 S. Spring Street, Los Angeles
Oct. 20 – Nov. 13, 8pm (Sunday 3pm matinee, Nov. 12 matinee at 3pm rather than 8pm)
Tickets: General $40 | Seniors & Students $20 | Groups $20 | $10 Neighborhood Thursdays
Special $10 tickets for CalArts faculty, alumni, students with ID. Use code: CALARTS.

blu
The Alexandria
501 S.Spring St., 3rd Floor, Los Angeles
Through Nov. 13 (varying dates and times)
Tickets: Previews $10 | General $20 | Seniors $15 | Students $12