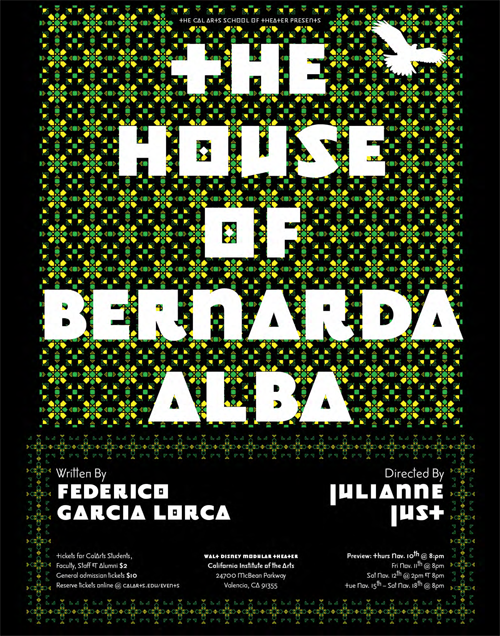 [nggallery id="214″]
Starting this Friday at 8 pm, a production of Spanish playwright Federico Garcia Lorca's The House of Bernarda Alba opens at The Walt Disney Modular Theater on the CalArts campus.
The play, which delves into a world of domestic imprisonment, is directed by Julianne Just (Theater MFA 12), who chose the work as her thesis project.
A short synopsis from the School of Theater:
After the death of her husband, Bernarda Alba, the dominating mother of five grown daughters, imposes a period of mourning on her household to last eight years. Isolated from the town, and forbidden from forging relationships with men, tension and jealousy mounts within the house. The House of Bernarda Alba reminds us how precious the power to imagine our own future is, how quickly it can be taken away, and how dire the consequences of that loss can be.
The play was written by Lorca months before his assassination during the Spanish Civil War. It uses the female-dominated household setting to address larger issues of self-expression, censorship and repression. In this world, "we are unable to be who we truly are," says Just.
Performances run Nov. 11-12 and 15-19 at 8 pm, with a 2 pm matinee on Nov. 12.
Below is a trailer for Just's The House of Bernarda Alba:
House of Bernarda Alba
The Walt Disney Modular Theater, CalArts
Nov. 11-12 and 15-19 at 8 pm
Nov. 12, 2 pm matinee
Tickets: $10 General, $2 CalArts students and associates with valid ID.