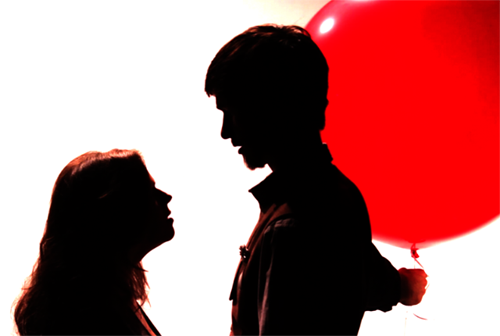 This weekend the CalArts School of Theater presents workshop performances of Gregor's Big Red Balloon, written by Sarah Louise Wilson (Theater BFA 01) and co-directed by Randall Whittinghill (BFA Theater 02) and Wilson.
The production, which will be staged in the CalArts Coffeehouse tonight, Saturday and Monday evenings (Nov. 11-12, 14), is a dark comedy about contemporary relationships that begs the question, "How far would you go to make love stay?"
From the producer's notes:
Even as children, Gregor and Scarlett knew their souls were bound to one another. Now, after over a decade of fighting to keep their passion amongst conventional routine, Gregor is ready to propose. The big night, however, goes horribly wrong. Using flickers of video to dive into the subconscious mind, Gregor and Scarlett struggle to redefine who exactly they are without each other. In a relationship where individuals are so intertwined, Whittinghill notes how difficult it is to learn to love yourself as much as you love someone else.
The production includes a cast and production crew of current CalArts students, including producer Rachel Sherbill (Theater MFA 1) and original music by Chelsey Bomar (Music BFA 15).
As former CalArts student actors, Wilson and Whittinghill have found an enhanced appreciation of CalArts' artistic environment since returning to work on the project. "As directors, we feel as though we have come full circle," says Wilson.
Gregor's Big Red Balloon
CalArts Coffehouse Theater
Nov. 11, 9 pm
Nov. 12, 2 pm and 8 pm
Nov. 14, 8 pm
Free | Reserve tickets