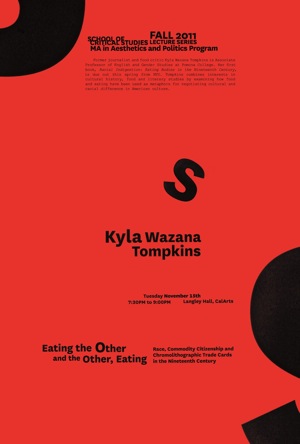 Tonight, the Aesthetics and Politics Lecture Series hosts guest speaker Kyla Wazana Tompkins, who'll present the lecture Eating The Other and the Other, Eating: Race, Commodity Citizenship and Chromolithographic Trade Cards in the Nineteenth Century in Langley Hall from 7:30-9 pm.
Tompkins serves as Associate Professor of English and Gender Studies at Pomona College and is a former journalist and food critic, which informs her work.
More about Tompkins from Pomona College:
Tompkins has always organized her world by food. "It's how I remember children's books and world events," she explains, citing The Lion, The Witch and The Wardrobe, in which Edward is seduced by Turkish delight and the Boston tea party. … In her research, Tompkins combines her interests in cultural history, food and literary studies by examining how food and eating have been used as metaphors for the negotiation of cultural and racial difference in American culture.
Her first book, Racial Indigestion: Eating bodies in the Nineteenth Century, is due out this spring from NYU Press.
Kyla Wazana Tompkins
Aesthetics and Politics Lecture Series
Hosted by Douglas Kearney
Tonight, 7:30-9 pm
Langley Hall, CalArts
Free