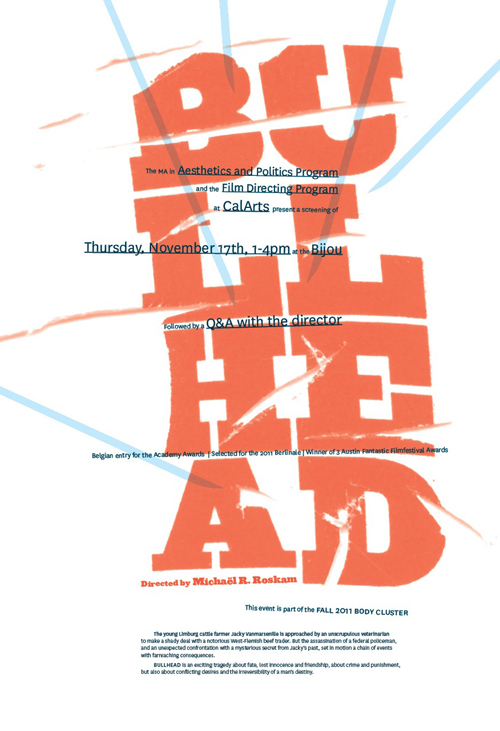 This afternoon, the CalArts Fall 2011 Interdisciplinary Course Cluster (The Body Cluster) hosts Belgian film director Michaël Roskam, whose award-winning feature film Bullhead screens at the Bijou Theater at 1 pm. A Q&A with the director follows the screening.
The young Limburg cattle farmer Jacky Vanmarsenille is approached by an unscrupulous veterinarian to make a shady deal with a notorious West-Flemish beef trader. But the assassination of a federal policeman, and an unexpected confrontation with a mysterious secret from Jacky's past, set in motion a chain of events with farreaching consequences. Bullhead is an exciting tragedy about fate, lost innocence and friendship, about crime and punishment, but also about conflicting desires and the irreversibility of a man's destiny.
The film, which is part of a new wave in Belgian cinema, is Roskam's first feature film and Belgium's entry for the Academy Awards this year. Focusing on Belgium's "hormone mafia," it has already received two American Film Institute Awards, among others. (Watch the trailer below.)
The Body Cluster at CalArts brings together a series of Art and Critical Studies courses and examines the relationship between body, language and subjectivity as mapped out in philosophy, psychoanalysis, queer theory, and literature and literary pornography. Today's screening is collaboration been the program in Aesthetics & Politics and the School of Film/Video.
Screening of 'Bullhead' and Q&A with Filmmaker Michaël Roskam
Bijou Theater, CalArts
Today (Nov. 17), at 1 pm
Free