As the Fall semester wraps up at CalArts, the School of Theater presents two new productions beginning this week. The Firebugs, directed by Deena Selenow (Theater MFA 2), will run through Dec. 13 in E400, and a staged reading of Taco Time, directed by Marina McClure (Theater MFA 3), is slated for tonight and tomorrow night (Dec. 9-10) in Butler Building 2.
The Firebugs
The Firebugs, a dark comedy written by German playwright Max Frisch in 1953, explores the thin line between good and evil; innocence and guilt. Written in the years following World War II as a metaphor for Nazism and fascism, the play illustrates how evil takes over "normal" citizens.
From the producer's notes:
A string of arsons has sent an entire community into hysteria, as they struggle to figure out who is to blame. Gottlieb Biedermann is ever trusting of his new "house guests" as they constantly load explosives into his attic. He argues that if you can't trust your community, then humanity as we know it, is lost. Will the Firebugs strike again? No one knows…
The action of the play is observed by a Greek-style chorus of "firemen." In Selenow's version, the fire brigade's text is set to original music composed by Paul Fraser (Music MFA 11).
Taco Time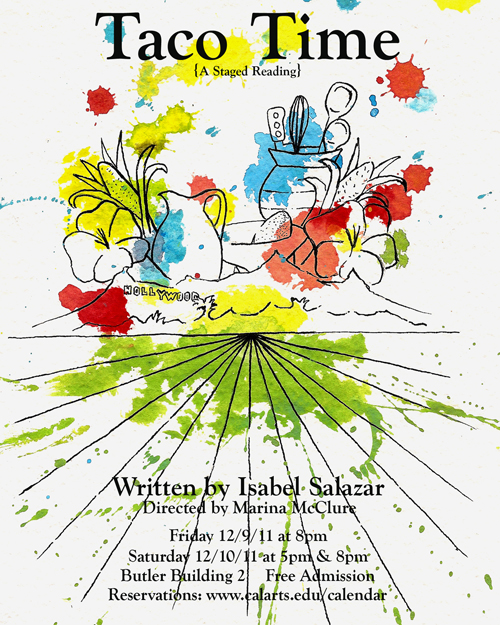 Starting tonight (Dec. 9), the School of Theater presents a workshop of Taco Time, written by Isabel Salazar (Theater MFA 2). Presented by the Writing for Performance program, the readings will be held in Butler Building 2 at 8 pm, and 5 pm and 8 pm tomorrow night (Dec. 10).
More on the play from the producer's notes:
A Texas native, Salazar's play stems from the summer that she and her neighbors became obsessed with the Food Network. At the height of her culinary exploration, each meal became a possibility for Isabel to become the new Food Network Star.
"This show is about jobs. It's about family," says Salazar. "It's about trying to make situations better when there's no alternative left."
Taco Time
Butler Building 2, CalArts
Dec. 9, 8 pm
Dec. 10, 5 pm and 8 pm
Tickets: Free
The Firebugs
E400, CalArts
Dec. 9, 8 pm
Dec. 10, 2 pm and 8 pm
Dec. 12-13, 8 pm
Tickets: General $10, CalArts Community $2