[nggallery id="223″]
As previously posted, students from The Sharon Disney Lund School of Dance at CalArts recently performed world-renowned Israeli choreographer Ohad Naharin's Echad Mi Yodea (from 1990's Kyr) and Humus (from 2005's Three) at REDCAT as part of CalArts Winter Dance. The concert, which was held on Dec. 16-17, also featured premieres by CalArts faculty choreographers Stephanie Nugent and Colin Connor.
Due to the challenging nature of his dances, Naharin only gives permission to perform them to select troupes. Among these companies are The Alvin Ailey American Dance Theater, the Paris Opera Ballet and Nederlands Dans Theater.  The CalArts dance students, whom he observed on a visit to campus last summer, are now among those elite groups.
In a Dec. 16 Los Angeles Times article by Valerie Gladstone, Naharan spoke about the CalArts students performing his work. "'I completely trust them,' Naharin says on the phone from Israel. 'They are beautiful.'"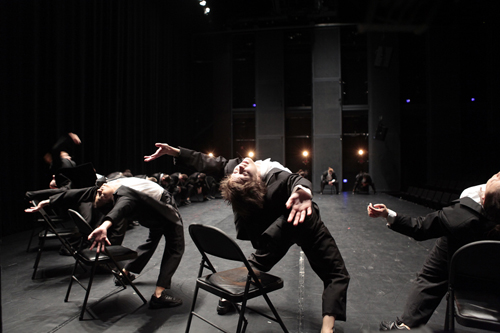 A description of one Naharin's works from the article:
Twenty dancers form a semicircle as Israeli choreographer Ohad Naharin's recorded voice speaks the first words of the traditional Passover song Echad Mi Yodea (Who Knows One), marking the beginning of his work by that name.

They sit down, lean forward and bow toward the floor. The Israeli rock group Tractor's Revenge pumps up the tempo with its version of the song. Thrusting out their chests, the dancers tilt backward in their chairs and spread their arms wide, wildly shaking their heads as if possessed. By the end, they are shouting out the lyrics and flinging off most of their clothes in an ecstatic celebration of movement and freedom.