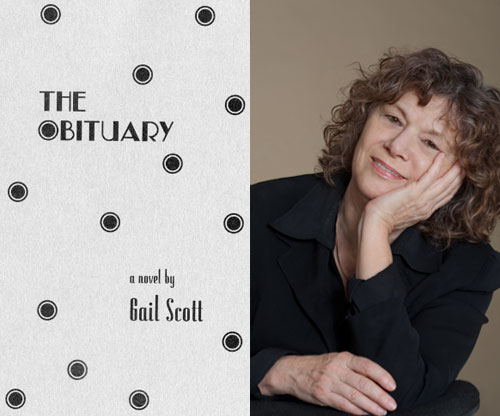 CalArts MFA Writing Program hosts a number of renowned authors this semester for its Visiting Artist Series, beginning Thursday at 7:30 pm with Canadian writer Gail Scott in Butler Building 4.
Scott's new novel, The Obituary (Coach House) is a kind of ghost story with a narrator living on the top floor of a Montreal triplex, who may be a ghost herself. She's haunted by her tap-dancing grandfather and the early 20th century Paris gendarme (cavalryman), who has a crush on him; her mother's indigenous family; and Montreal quarry workers who, in the 1880s, frequented the Crystal Palace gardens—the remains of which sit below her apartment building.
While part whodunit, the book is more about the discovery of self and an exploration of who else may be speaking through us.
An excerpt:
To underscore how we are haunted by secrets
of others. Such as they colporting spite from The
Outers to rue Settler-Nun, Mile-End, QC. Further
absorbing under surface of community amenity, bitter
particles of those going there before, say, the Shale Pit
Workers! Floating up from burnt-down Crystal Palace,
whose rotting pylons still directly under. Where once
upon a time, when it not being used for smallpox
hospice, British officers used to hold their
balls.

They were rumoured not to like girls like me very much.
They also hated Indians. This is better documented.
By the end of our tale, we may likewise be dead —
The Obituary was named a finalist for the 2011 Grand prix du livre de Montréal (Montréal Book Prize). Scott's other novels include My Paris, Main Brides and Heroine. She teaches Creative Writing at Université de Montréal.
The Visiting Artist Series, which is curated by Critical Studies faculty member Tisa Bryant, also includes the following authors and panel discussions:
Feb. 2 at 7 pm – No Need to Perish: Tenacity & Indie Publishing with Two Dollar Radio, Kaya Press, Poets & Writers and Sandra Dijkstra Literary Agency;
Feb. 9 at 7:30 pm – Sharifa Rhodes-Pitts
Feb. 12 at 7 pm at REDCAT – The Magic of Solidarity: Shahrnush Parsipur and Suheir Hammad, with Persis Karim (presented in Collaboration with Art, Justice and Global Aesthetics: The Equity and Diversity Reading Series); and
Feb. 16 at 7:30 – Melissa Buzzeo.
All events are held in BB4 unless otherwise noted.