In 1977, artist Suzanne Lacy created the multidimensional work, Three Weeks in May, which included performances, installations and other organized events that called attention to the frequency of assaults against women throughout Los Angeles. One of the focal points of the project was a large map of LA, where the artist stenciled the word "RAPE" in red at approximate locations of attacks reported to police.
Last month, Lacy re-created the project as Three Weeks in January for the Pacific Standard Time Performance and Public Art Festival. Once again, the map became a platform for organizing events around a renewed commitment to end violence against women.
Today (Feb. 1), CalArts continues the conversation launched by Lacy's project with a Forum on Global Violence Against Women in the Main Gallery from 3:30-5 pm.
The forum—coordinated by the nonprofit social justice organization CODEPINK and the CalArts Spring semester course cluster Women, Community Engagement, Resistance and Transdisciplinary Activism—presents multiple perspectives on issues of violence against women, highlighting mass rapes in militarized zones and grassroots efforts to end the violence.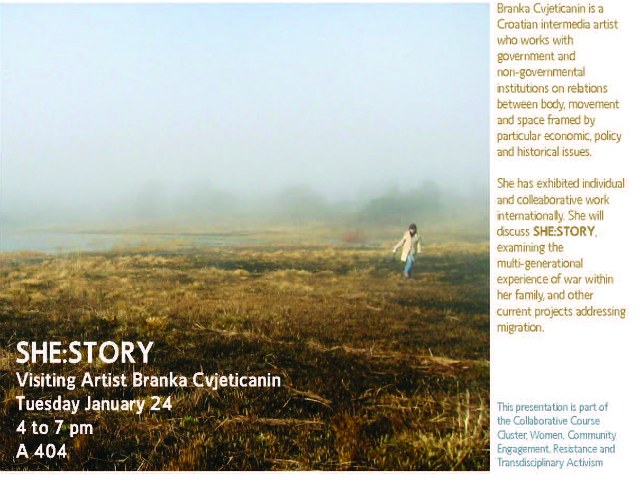 The course cluster—with classes taught by Chandra Khan, Christine Wertheim, Evelyn Serrano, Leslie Tamaribuchi and Nancy Buchanan—focuses on exchanges with artists and activists who are working to make systemic changes at both the global and local levels. Last week, Croatian intermedia artist Branka Cvjeticanin was the cluster's first guest speaker and discussed SHE:STORY, an examination of the multi-generational experience of war within her family.
A Forum on Global Violence Against Women
CalArts Main Gallery
Wednesday, Feb. 1
3:30-5 pm