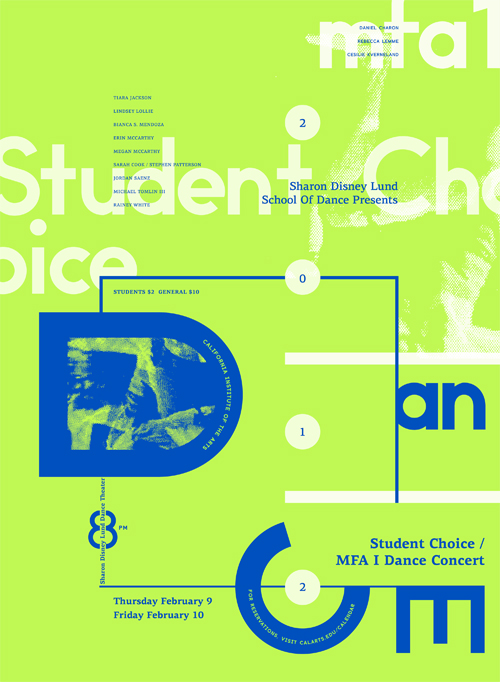 Tonight and tomorrow night (Feb. 9 and 10), students from The Sharon Disney Lund School of Dance at CalArts present the Student Choice / MFA-1 Dance Concert at the Sharon Disney Lund Dance Theater on the CalArts campus. The concerts begin at 8 pm.
The Student Choice portion of the concert features works choreographed by BFA dancers, who also curated the show—by selecting work by peers they wish to see performed. These pieces are intermixed with dances by first-year MFA choreographers.
"I love Student Choice because the students vote on the pieces they want to see," says choreographer Bianca Mendoza (Dance BFA 12). Her dance, Bleep, was selected for the concert, and incorporates the use of various theme music from Disney films.
"There was something in my piece that the students (audience) liked and that means a lot to me. In doing this, the choreographer really gets a feel for what they need to do, or should do next, what worked and what didn't."
Mendoza's dance piece is one of 12 on the program. Tickets for the concert can be reserved online.
Student Choice / MFA I Dance Concert
Sharon Disney Lund Dance Theater, CalArts
Tonight & Friday, Feb. 9 & 10, at 8 pm
Tickets: $2 CalArts Community, $10 General