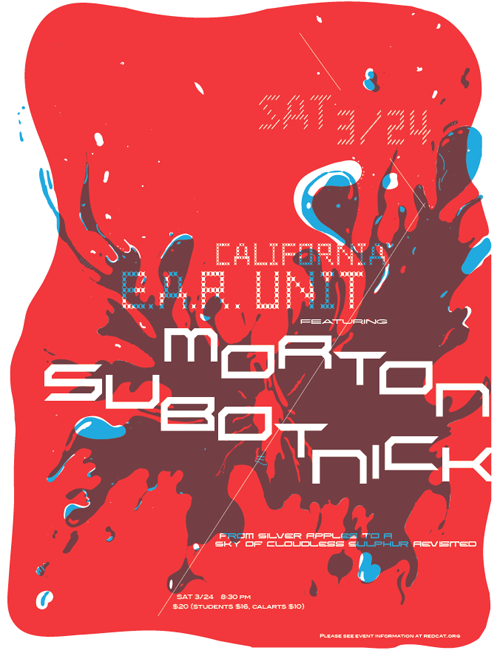 [nggallery id="243″]
This Saturday (March 24), electronic music legend and former CalArts faculty Morton Subotnick returns to REDCAT with the California E.A.R. Unit to perform two of his well-known compositions: Silver Apples of the Moon (1967) and A Sky of Cloudless Sulphur (1977).
Originally created using a Buchla synthesizer and tape recorders, the compositions have been revamped for this special live performance.
Subotnick, who became CalArts School of Music's associate dean in 1969, is one of the pioneers in the development of electronic music and multimedia performance, working extensively with interactive electronics. He was among the first composers to work with electronic instrument designer Don Buchla, who designed his synthesizer based on suggestions from Subtonick.
During the 60s when academic, avant-garde electronic music tended to be highly abstract, Subotnick wrote pieces like Silver Apples and A Sky that incorporated more common rhythmic elements in the music. In addition, much of his work was designed for home stereo listening, until later in his life when he began performing his work live.
For this staged version of the piece, Subotnick uses 21st century gear: Ableton Live software on a Mac and the new Buchla 200e. The music will be performed with long-time collaborators, California E.A.R. Unit.
The group's core members are Erik Clark (Music MFA 06) on violin,  faculty pianist Vicki Ray and faculty percussionist Amy Knowles (Music BFA 82). Drawing upon elements of the original pieces, the evening includes  "spontaneous performance and decision-making."
Below is a clip from the original Silver Apples of the Moon (1967):
Morton Subotnick & California E.A.R. Unit: From Silver Apples to a Sky of Cloudless Sulphur: Revisited
REDCAT
March 24, 8:30 pm
Tickets: General $20, Students $16, CalArts Faculty/Students/Staff $10