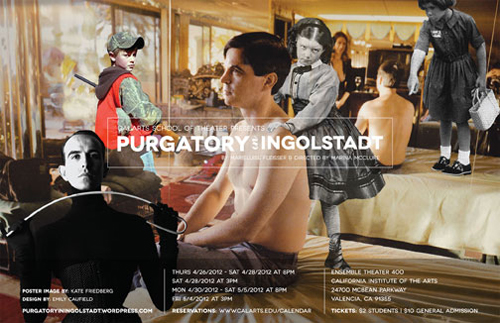 Opening tonight (April 27) and running through May 5, the CalArts School of Theater presents Purgatory In Ingolstadt in the Ensemble Theater (E400) at CalArts. The play by German playwright Marieluise Fleisser (1901-1974) "takes an inventive look at a community stifled by rigid moral roles."
A short synopsis from the play's producer, Elena Muslar (Theater MFA 14):
A story of youth trapped in a closed society, Purgatory In Ingolstadt depicts a world dominated by church order and traditional gender roles. Bereft of stable mentoring, the students bully, spy, embrace, and reject each other in rapid succession.

Purgatory centers on two outsiders, Roelle and Olga. Each tries to escape the confines of their society–one with public delusions of grandeur, the other by allying herself with men who may help her.
Directed by Marina McClure (Theater MFA 12), the work is a 25-year-old Fleisser's response to personal experiences of post-war social tensions in her hometown of Ingolstadt, Germany, in 1926.
"Purgatory explores the dangers of a narrow world-view," says McClure. "The youth are raised in a community full of malice, jealousy, apathy and brutality."
Known for creating interdisciplinary performances with the audience experience at the core, McClure's work has been staged at the New York and Capital Fringe festivals, REDCAT, The Kennedy Center, Manhattan Theater Source, The Eugene O'Neill Theater Center, and in found spaces and theaters in Washington, D.C., New York, New Hampshire and South Africa.
She is also currently co-directing The House is Open at CalArts, having previously directed Taco Time and Phaedra's Love for the School of Theater.
View more information about Purgatory In Ingolstadt.
Purgatory In Ingolstadt 
Ensemble Theatre (E400), CalArts
April 27-28, April 30-May 5 at 8 pm
April 28 and May 4 at 3 pm 
Tickets: General $10, CalArts Community $2