Artist Rowan Smith (Art MFA 13) and composer Ingrid Lee (Music BFA 12) recently collaborated on a project to transcribe the sounds of a guitar smashing into a piece for solo piano. The work, titled COME ON YOU FUCKERS, is meant to encompass the commercialization of rebellion as well as "the obsolescence of protest gestures within a pop-cultural paradigm and translation as an interpretive and generative methodology."
To create the piece, Smith smashed a guitar while Lee recorded it. Lee then painstakingly analyzed the recording by ear and assigned notation to corresponding sounds  in order to make the intricate score.
"A lot of the recording was mostly noise, but from that I was still able to extract pitches," says Lee. "For me, the objective of the transcription was to fit these sounds into the rigid system of notation for piano. This required me to round pitches up to the nearest equal-tempered pitch on the piano and to fit the natural rhythms into seconds."
Lee says that the point of the project as a whole is to translate or re-code a violent gesture of rebellion (smashing a guitar), which has "become bankrupt of meaning through repetition and commodification."
More on the project from the creators' website:
COME ON YOU FUCKERS as a title is derivative of street vernacular; argot that appears familiar, but holds no direct reference. It is a generalized call to action, which in this case, is empty of both content and meaning. The lack of subject and agency in this title alludes to the contemporary climate of commodified rebellion, which is symptomatic of middle class complacency within a post-counter-cultural milieu. We find a representation of this attitude in the gesture of smashing a guitar, a gesture of protest which…has become void of meaning.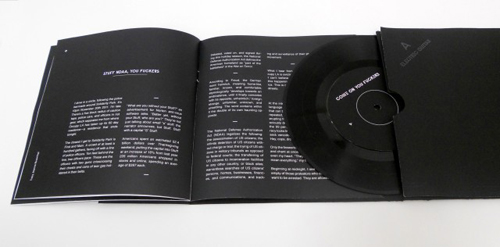 The artists recently released a recording of the piece on 7″ vinyl designed by David Karwan (Art MFA 13) and Isaac Berenson (Art MFA 14). The package also includes a publication of texts written by Smith, Lee, Jen Hutton (Critical Studies MFA 14), Michael Molitch-hou (Critical Studies MFA 12), Linda Stupart and Tracy Jeanne Rosenthal (Critical Studies MFA 13) examining the contemporary climate of rebellion. Through this project, the collaborators investigated translation as a creative and nonviolent strategy, which was used in every facet of the project (the score, the recording, the design of the publication, the texts).
In celebration of the release, Lee and Smith are holding a release party/concert on Friday (May 11) at 8 pm at the Wulf in Los Angeles. The event also features performances of new and existing works by LA artists examining themes of "protest, translation and the commodification of rebellious gestures." For more information about the release event, visit the project's website.
Above is a video of the first performance of the piece performed by Lee at CalArts.
COME ON YOU FUCKERS Record Release Event
The Wulf
1026 S. Santa Fe Ave, #203, Los Angeles
May 11, 8 pm
Free