Writer/Director Kevin Smith, known for helming films such as Clerks, Chasing Amy and Dogma, has recently taken to hosting with long-time producer collaborator, Scott Mosier, several weekly podcasts released on SModcast Internet Radio. ("SModcast" is a mashup of "Smith" and "Mosier" and "podcast.")
Among the hour-long podcasts is the Film School Fridays segment, in which Smith discusses filmmaking, takes questions and gives advice to students and recently graduated filmmakers with his signature brand of raunchy humor. Young filmmakers from film schools including the University of Southern California, Chapman University and the Los Angeles Film School have recently participated.
Smith said that he loves talking to students because he's inspired by their passion and the artistry at the beginning of their careers, before they become jaded by "the industry."
In last week's Episode #5, Smith spoke with two UCLA students and three CalArts alumni: Harold Hyde (Film/Video MFA 12), Lewis Consoli (Film/Video BFA 12) and Ian Raymond (Film/Video MFA 12) about their film school experiences, recent projects, and industry tips including writing scripts and working with difficult actors.
When Consoli mentioned that he was interested in editing, Smith enthusiastically encouraged him because film editors are desperately needed in the film industry.
Click on the image below to access the podcast page. Fair warning, though, that the director has an affinity for "descriptive" language—especially the four-letter word variety.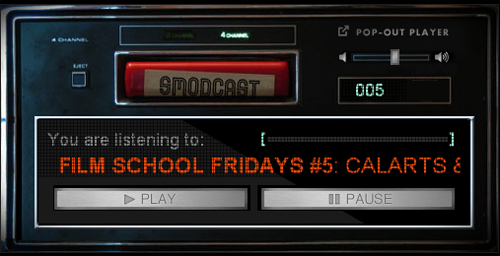 Listen to or download the podcast for free over at Smodcast.