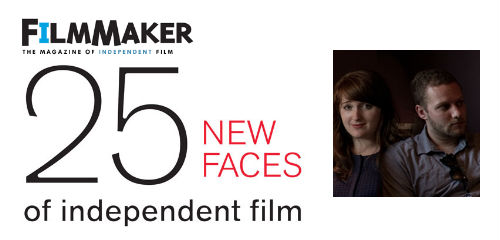 Last week, Filmmaker Magazine released its annual listing of the 25 New Faces of Independent Film. Among the notable emerging artists are collaborators and CalArts alumni Jason Tippet (Film/Video BFA 09) and Elizabeth Mims (Film/Video BFA 10).
The duo's debut documentary, Only the Young, follows two Canyon Country (Santa Clarita, Calif.,) skateboarding teens, and made waves on the festival circuit earlier this year.
From Filmmaker:
Over a shoot that lasted almost two years, Tippet and Mims captured the youthful indecisions and sexually charged jealousies of these friends, most often in beautifully composed, locked-off shots. The finished film, Only the Young, has a stylized formal precision to it as well as reality TV-style direct address moments, but in its gentleness, its avoidance of artificial drama, this sweetly melancholic film feels like something new….

…In addition to films like Billy the Kid, Trona and American Movie, they say they were influenced by the work of CalArts instructors James Benning and Thom Andersen. "In Benning's work, everything is so amazingly photographed," Mims says. As the couple developed their own style, they gravitated, says Mims, to wide shots and prime lenses. "We also became obsessed with Wes Anderson's films and Bob Yeoman's cinematography," Tippet says….
Tippet and Mims, who met as first-year students at the CalArts School of Film/Video, worked together two years later on the short film Thompson, which screened at Sundance, the Los Angeles Film Festival and earned a jury award for short film at SXSW 2009.
Below is a trailer for Only the Young: