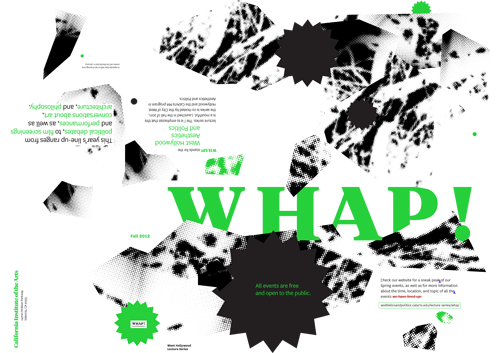 WHAP!—the MA Aesthetics and Politics program's year-long series of lectures and events in West Hollywood is back. The series opens tonight (Sept. 21) with author, historian, civic leader and political commentator Nancy Cohen and West Hollywood councilmember John Duran for a conversation about electoral politics and the fight for equality.
Hosted by Critical Studies faculty member Martín Plot, the conversation takes place at the West Hollywood Library community room (upstairs), from 7:30-9 pm.
"This debate will focus not just on the upcoming US presidential election, but on how to advance the cause of equality during such an election (and others like it)," says Director of MA Aesthetics & Politics and CalArts faculty Arne De Boever.
Other WHAP! events announced for this fall:
All events are free and open to the public. Pay parking is available in the library structure, but parking will be validated.
Debate: The Fight for Equality and Electoral Politics 
WHAP!
West Hollywood library, Community Room
625 N. San Vicente Boulevard, West Hollywood
Friday, Sept. 21, 7:30-9 pm
Free