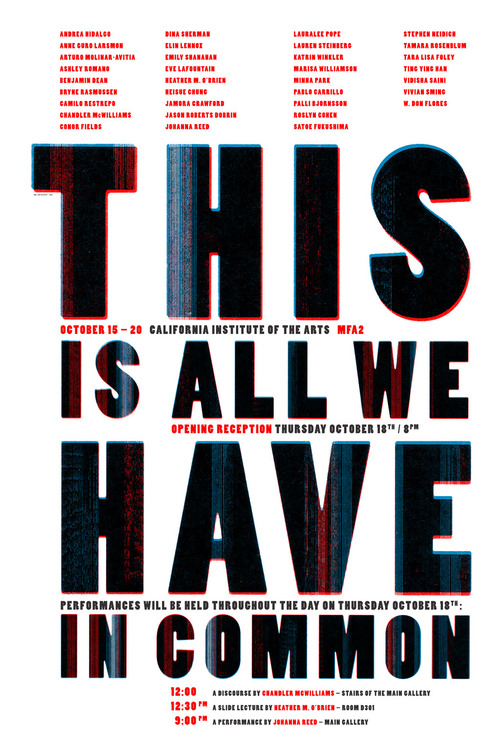 This week (Oct. 15-20), second-year MFA students from the CalArts School of Art present the exhibition, This Is All We Have in Common, which features work by artists from the Art, Photography & Media and Art & Technology programs.
The exhibition, which occupies the Main, L-Shape, D300, D301, A402, Lime and Mint galleries at CalArts, will have an opening reception tonight (Oct. 18) at 8 pm, as well as a number of performances and lectures during the day.
On the exhibition schedule today:
12 pm – A discourse by Chandler McWilliams (Art MFA 13) – Stairs of the Main Gallery
12:30 pm – A slide lecture by Heather M. O'Brien (Photography & Media MFA 13) – D301 Gallery
9 pm – A performance by Johanna Reed (Art MFA 13) – Main Gallery
Featured artists include Anne Guro Larsmon, Andrea Hidalgo, Ashley Romano, Benjamin Dean, Bryne Rasmussen, Camilo Restrepo, Chandler McWilliams, Conor Fields, Dina Sherman, Elin Lennox, Emily Shanahan, Eve LaFountain, Heather M. O'Brien, Heisue Chung, Jamora Crawford, Jason Roberts Dobrin, Katrin Winkler, Lauralee Pope, Lauren Steinberg, Marisa Williamson, Minha Park, Pablo Carrillo, Páli Bjornsson, Roslyn Cohen, Satoe Fukushima, Stephen Neidich, Tara Foley, Tamara Rosenblum, Vidisha Saini, Vivian Sming and W. Don Flores.
This Is All We Have in Common
MFA Mid-Residency Art Exhibition
Main, L-Shape, D300, D301, A402, Lime and Mint Galleries, CalArts
Through Oct. 20
Opening Reception: Tonight (Oct. 18), 8 pm