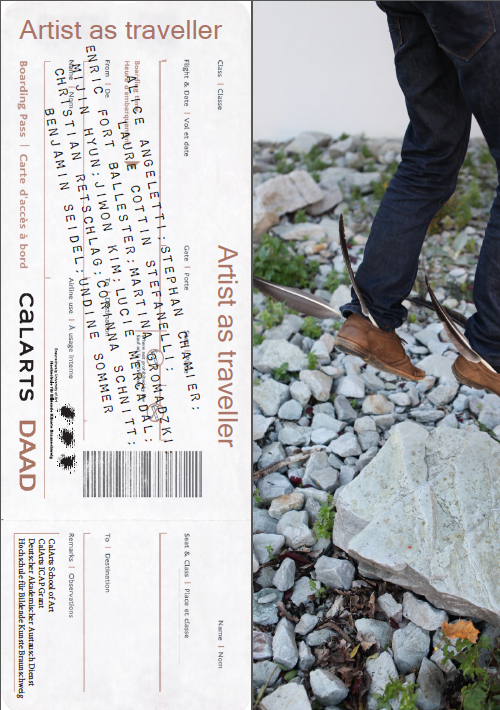 [nggallery id=302]
In July 2012, 13 CalArts School of Art students and faculty members Shirley Tse and Kaucyila Brooke presented the Artist as Traveller exhibition at the Braunschweig University of Art (HBK) in Germany as part of an exchange program between the university and CalArts.
Artists from Braunschweig continue the Artist as Traveller exhibition at CalArts this week. HBK faculty member Corinna Schnitt and 11 students have installed their works in the D300 and D301 galleries. Artists on view are: Alice Angeletti, Stephan Chamier, Laure Cottin Stefanelli, Enric Fort Ballester, Martina Gromadzki, Mijin Hyun, Jiwon Kim, Lucie Mercadal, Christian Retschlag, Benjamin Seidel and Undine Sommer.
Schnitt, who first trained as a wood carver and now primarily creates video installations and experimental films, discussed her career and other Artist as Traveller pieces during Tuesday's (Nov. 20) Paul Brach Lecture Series.
The exchange program was made possible through funding from Braunschweig, CalArts School of Art, a CalArts ICAP grant and DAAD (German Academic Exchange Service), a publicly funded independent organization of higher-education institutions in Germany.
We've posted a few images of the works in the gallery above.