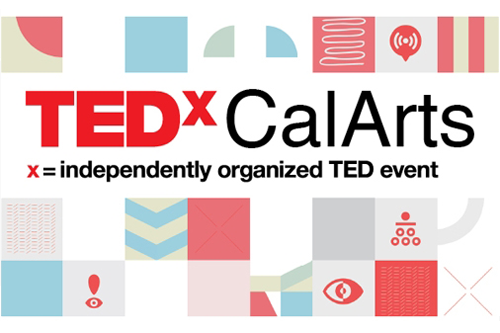 Update 3/6: Since our original post, we learned that Atau Tanaka and Teddy Cruz will not be appearing as previously scheduled.
CalArts' Center for New Performance (CNP) presents the first TEDxCalArts conference at REDCAT in downtown Los Angeles on Saturday, March 9. Titled Performance, Body & Presence, this independently organized TEDx event is a daylong symposium that brings together thinkers and doers from a diverse range of disciplines to explore "how new understandings of performance and liveness are radically changing our experience of art, technology, culture, and politics."
The program consists of a series of short talks and performances. Scheduled presenters are: activists The Yes Men, 2012 Alpert Award-winning choreographer Nora Chipaumire, Indonesian choreographer Sardono W. Kusumo, Electronic Disturbance Theater founder Ricardo Dominguez, 24-piece band Killsonic, CalArts School of Theater Director of Performance Mirjana Jokovic, architect Peggy Deamer, sound artist Chris Kallmyer  (Music MFA 09), architect Teddy Cruz, Critical Studies faculty member Douglas Kearney, media theorist and activist Franco Berardi Bifo, social theorist Brian Massumi and Sense Lab director Erin Manning, composer/performer Atau Tanaka, Associate Dean for Research and Development in Digital Arts Ajay Kapur and performer Jeepneys (Anna Luisa Petrisko, Music MFA 14).
The video below excerpts a recent performance by Jeepneys:

In addition to a presentation at the conference, The Yes Men will give a separate workshop on tactical media strategies at CalArts on March 7 during Commons Time (4-7 pm). The organization, known for impersonating "big-time criminals in order to publicly humiliate them and otherwise giving journalists excuses to cover important issues," also operates its Yes Lab, which helps activists use creative techniques to promote change.
More on the The Yes Men from TEDxCalArts.org:
The Yes Men have impersonated World Trade Organization, Dow Chemical Corporation, and Bush administration spokesmen on TV and at business conferences around the world. They do this (a) in order to demonstrate some of the mechanisms that keep bad people and ideas in power, and (b) because it's absurdly fun. Their main goal is to focus attention on the dangers of economic policies that place the rights of capital before the needs of people and the environment. Right now they're focused on passing carbon emissions laws in the USA.
For those unable to attend TEDxCalArts at REDCAT, the event will be live-streamed online on the TEDxCalArts site, in the Main Gallery and the Modular Theater Lobby at CalArts during the March 9 conference.
The video below features Kallmyer's recent project Objects from a place:

TEDxCalArts
REDCAT
March 9, 9 am-6 pm
6-7 pm closing reception
Tickets: General $90, REDCAT members and students $70, CalArts faculty/staff/alumni $40, CalArts students $30
(Conference registration includes breakfast, lunch and closing reception)