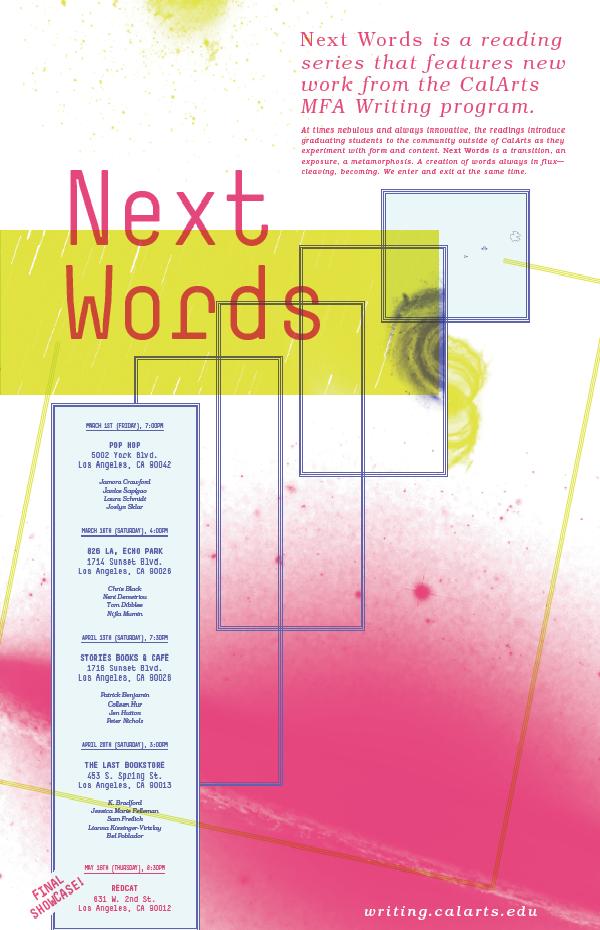 The MFA Creative Writing class of 2013 presents Next Words, a reading series that introduces new works from CalArts writers to the greater Los Angeles community. Tonight, the series kicks off at Pop Hop in Los Angeles' Highland Park neighborhood with several graduating students reading from their theses.
Among them:
Janice Sapigao's Where Did You Get All Those English From? is a fictional memoir about Magdalena, a young girl who grows up in a fatherless house with 12 other people. Her manuscript aims to further a youth perspective and a girlhood poetics, believing that kids know their own consciousness more than people think.
Laura Schmidt's book-length project, Alabama Crossing, takes a close look at the impact of religious homophobia on identity. Vacillating between prose poetry and traditional narrative, the project aims to represent the fracturing mind of a young queer Christian living in the Deep South as she tries to reconcile her family, faith and orientation.
Other writers tonight include Jamora Crawford and Joslyn Sklar.
Next Words
Pop Hop
5002 York Blvd., Los Angeles
Free
Below is the schedule for the rest of the readings in the Next Words series (all events are free and open to the public):

March 16: Chris Black, Neni Demetriou, Tom Dibblee, Nijla Mumin
826LA in Echo Park
1714 Sunset Blvd., Los Angeles
4 pm

April 13: Patrick Benjamin, Colleen Hur, Jen Hutton, Peter Nichols
Stories Books & Cafe
1716 Sunset Blvd., Los Angeles
7:30 pm

April 20: K. Bradford, Jessica Marie Felleman, Sam Freilich, Lianna Kissinger-Virizlay, Bel Poblador
The Last Bookstore
453 S. Spring St., Los Angeles
3 pm

May 16: Final Showcase
REDCAT
631 W. 2nd St., Los Angeles
8:30 pm