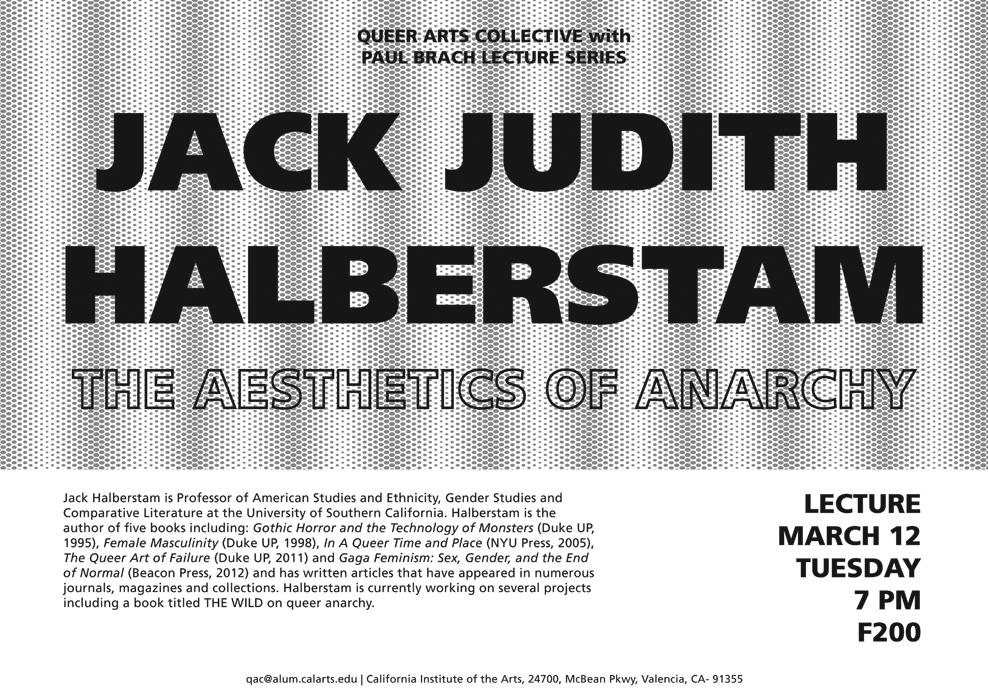 CalArts' Queer Arts Collective, together with the School of Art's Paul Brach Lecture Series, presents The Aesthetics of Anarchy, a talk by Jack Judith Halberstam on March 12.
According to Halberstam:
In a new book on "The Wild" I turn to anarchist thought to elaborate a queer politics for this particular moment of crisis and renewal. As many thinkers have proposed recently, a turn to anarchy makes sense at this time precisely because people's faith… in a politics of inclusion and assimilation is wearing thin, particularly in leftist circles…. In this new project, I seek to make explicit the stakes of a queer investment in anarchy that both reaches back to punk movements from the 1970s for inspiration but also seeks other traditions of anarchy globally.
Halberstam, a professor of American Studies, Ethnicity Gender Studies and Comparative Literature at the University of Southern California, is one of the most important queer and feminist theorists of our time. She has written five influential books, including last year's Gaga Feminism: Sex, Gender and the End of Normal, which proposes Lady Gaga as a symbol for a new kind of feminism. She is currently working on a new book, tentatively titled The Wild.
Below is Halberstam talking about Gaga Feminism.
Queer Arts Collective (QAC) aims to sensitize the CalArts community on diverse sexual, gender and non-normative identities/ narratives. Along with forming a safe and friendly peer group including students, administrators, faculty and staff that look out for one another, they organize exhibitions, film screenings, artist lectures and field trips.
'The Aesthetics of Anarchy,' a talk by Jack Judith Halberstam
March 12, 7 PM
F200, CalArts
Free