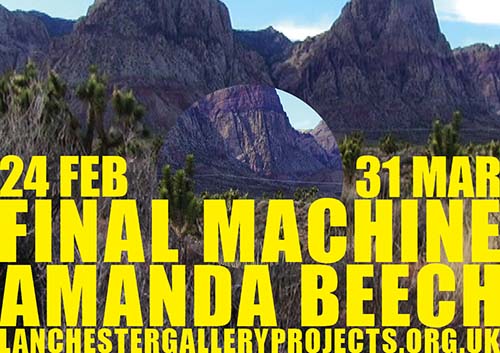 Final Machine, a three-channel video and architectural installation created by CalArts Dean of Critical Studies Amanda Beech, is on view at the Lanchester Gallery Projects in the UK until March 31 and at Hå Gamle Prestegard in Hå, Norway, through April 14. In the 45-minute installation, three red, amber and green screens take the viewer through a a litany of unconnected territories, with a circle as a recurring figure. The narrator, a gruff American, reads from a script that's part Louis Althusser's Philosophy Course for Scientists lecture series, part CIA recruitment talk, with excerpts from blogs obsessed with Hollywood realism.
More on Final Machine from Beth Bramich in the contemporary art magazine this is tomorrow:
The work tightly choreographs the viewers' experience delivering a sensory overload that borrows from the tropes of the high-octane thriller to grip you with a different form of fear and suspense. Rather than the conspiracy of government cover-ups this is the conspiracy of reality, or at least our acceptance of a reality predicated around us. The fictional world that Final Machine creates set us in what Beech describes as a "post-political reality" where ideas are taken seriously, "as if philosophy was a pure and accurate description of reality."

Beech has developed a language and internal logic across a body of work that forges a meeting point between politics, philosophy, fiction and art. Final Machine drives forward an argument for a speculative realism that rejects any notion of order or an empiricism that supports it, specifically in an art world which props up its own truthfulness through its habitual critical modes, and moves towards a correct understanding of power.
In conjunction with the installation, Beech also launched a limited-edition book of the same name. Final Machine, published by Urbanomic, contains essays by Reza Negarestani and Bridget Crone that connect Beech's work to politics, fiction and philosophy. Beech also held a screening and gave a lecture on her piece at Haus der Kulturen der Welt gallery in Berlin on March 6.
Amanda Beech: Final Machine
Ongoing until March 31
Lanchester Gallery Projects (LGP)
Graham Sutherland Bldg., Gosford St., Coventry CV1, UK
Free
Amanda Beech and Alison Jones: The Objects of Culture
Ongoing through April 14
Hå gamle prestegard
Hå  4365 Nærbø, Norway