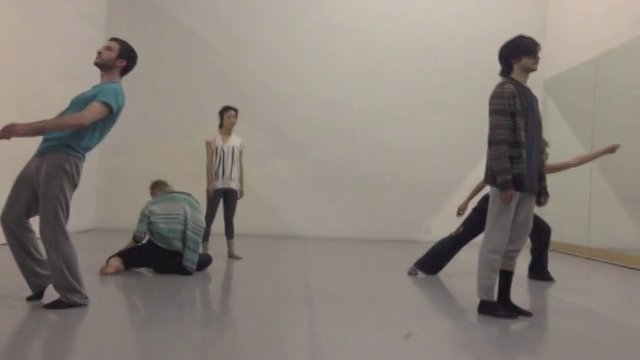 [nggallery id=354]
The LA Contemporary Dance Company's spring repertory concert, titled Then. Now. Onward!, brings the premieres of new work by Los Angeles choreographers Arianne MacBean (Dance—Critical Studies MFA 99), Lindsey Lollie (Dance BFA 12) and the company's artistic director, Kate Hutter. The concert, which features live original music, runs April 4 through the 7th at the Diavolo Dance Theater in downtown L.A.
The concert pits together the "then" and "now" with Hutter's re-imagining of a dance set to Igor Stravinsky's seminal The Rite of Spring (1913) juxtaposed with MacBean's piece 100 Times is Not Enough and Lollie's Enroute.
MacBean describes her work in an email:
The piece, 100 Times is Not Enough, is about the difficulties and moments of grace within the creative process. I wanted to make a piece that highlighted Kate Hutter and her role as the artistic cornerstone of the company—but I also wanted to honor, as she always does, the dancers' significant role in making her company what it is. So we have created short solos for Kate that are interspersed with larger group sections. Altogether there are 16 people in the piece. As Kate struggles to "make a dance," the dancers represent "the idea of a dance trying to be formed."
Lollie's work features a collaboration with musician Peter Gonzales (Music BFA 12), who will be performing live with Louis Lopez (Music MFA 12, BFA 10) and Sahy Uhns (aka Carl Madison Burgin, Music BFA 11).
Lollie writes about Enroute:
I was inspired by how our thoughts are transferred both physically through the body and in the energy around us. This piece explores the forces at work when these thoughts are circulated from one place to another and sometimes left behind, but remain active in the space.  One idea can be manipulated, taken apart and dispersed, but will find a way to make itself known. The dancers create an atmosphere that is constantly changing direction while building and disintegrating with an impulse to move forward. As they strive to stay in synch with one another the dancers create new pathways and find themselves moving in and out of unison.
In addition to the choreographers, dancers and musicians from CalArts, there's another Institute connection with the venue itself: Diavolo was founded in 1992 by daredevil choreographer Jacques Heim (Dance MFA 91).
Watch a rehearsal video from Lollie's piece and see photos from MacBean's recent rehearsal above.
Read a recent interview with MacBean on The Sharon Disney Lund School of Dance site.
Event Details
Then. Now. Onward!
Diavolo Dance Space 616 Moulton Ave., Los Angeles April 4–7 Thursday–Saturday at 8 pm and Sunday at 7 pm Tickets:  $20 online ($21.69 w/service fee), $25 at the door