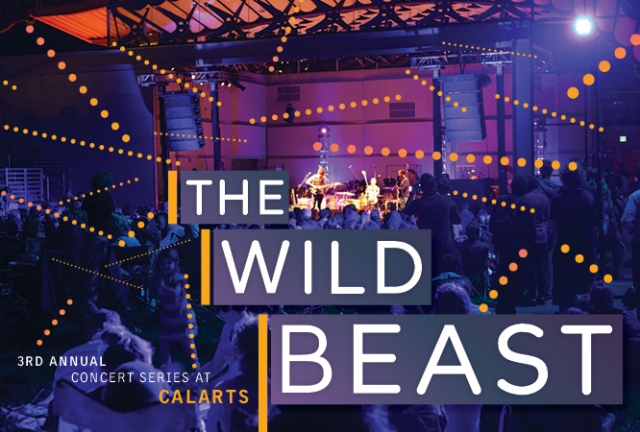 On Saturday (April 13) at 5 pm, this year's edition of the Wild Beast Concert series continues with an outdoor concert of new works performed by the CalArts Large Ensemble, an exciting 20-piece jazz orchestra. Conducted by alumni Lauren Baba (Music BFA 12) and Andrew Rowan (Music MFA 12), the ensemble plays charts by four alumni, one current student and three faculty members.
The group, which was formed by students in 2010, brings a collective focus to writing and performing original new works. As a result, the ensemble, although featuring big-band instrumentation, serves up an "untraditional" sound.
"The music we play doesn't exactly resemble swing-era big-band jazz," says Rowan. "While it shares a similar instrumentation to a traditional big band and is perhaps most influenced by different kinds of jazz music, it also draws heavily from classical and new instrumental music, rock, hip-hop and other genres."
Student and alumni works on the program include:
144 by Lauren Baba
Movement 1 and 2 by Lauren Baba (premiere)
L.E. 3 by Andrew Rowan
L.E. 4 by Andrew Rowan (premiere)
Fauberg by Greg Zilboorg (Music MFA 11) (premiere)
E Pluribus Unum by Frank Silva (Music MFA 12) (premiere)
Large Ensemble #1 by Greg Uhlmann (Music BFA 14) (premiere)
The evening also features premieres by CalArts faculty Mark Lowenstein and Wadada Leo Smith as well as two works by faculty Vinny Golia.
The CalArts Large Ensemble has recorded on three occasions at Capitol Records as part of the CalArts Jazz CD in 2011 and 2012, and two of those works received awards. Baba's 144 won the 2012 ASCAP Young Jazz Composers Award, and Rowan's L.E.3 received Honorable Mention for the 2013 ASCAP Young Jazz Composers Award.
Below is the recording of L.E. 3 by Rowan:
Event Details
Third Annual Wild Beast Concert Series: CalArts Large Ensemble
The Wild Beast, CalArts April 13 at 5 pm Tickets: Free, register here