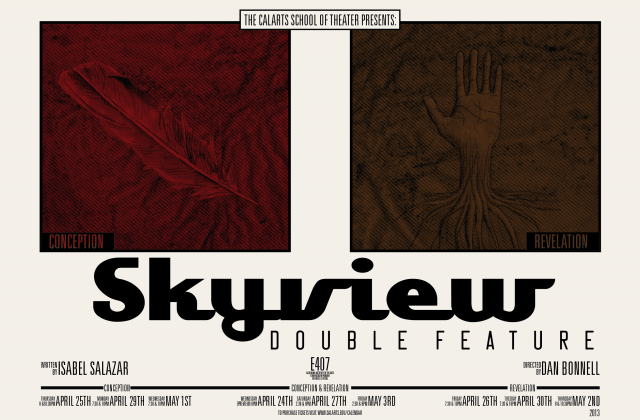 The CalArts School of Theater presents Skyview Double Feature, written by Kennedy Center American College Theater's Latino Playwrighting Award-winner Isabel Salazar (MFA Theater 13). Featuring two productions that can be viewed either separately or in tandem, Skyview Double Feature reflects on the fragmentation between human reality and spirituality.
Titled Conception and Revelation, the two plays follow Mejia, a woman trying to grapple with her own identity and the demands of the world around her. She tries to escape her life in rural Lamesa, Texas, but when she veers off-course, she is forced to face destiny in its purest forms. Through mystical encounters and transcendent experiences, Mejia finds herself on the path to discovery.
Audiences can choose to watch both parts of Skyview Double Feature together on April 27 and May 3, or watch Conception and Revelation separately from April 25 to May 2. For showtimes, visit this page.
The productions opened April 24. Both are directed by Los Angeles Drama Critics Circle award winner Dan Bonnell.