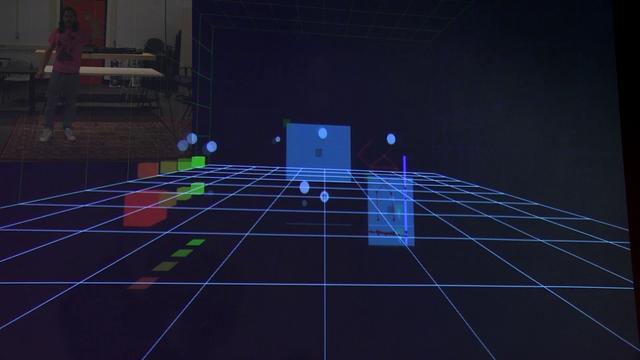 Kinect the Sines from Colin Honigman on Vimeo.
On Thursday (May 9), CalArts holds the Digital Arts and Technology Expo, featuring student and faculty projects that integrate computer science and engineering with visual and performing arts.
Among this year's projects are Kontrol, a wearable interface that lets the user make music through hand gestures; The Third Room, an interactive sound installation in virtual space controlled by the user's body; and Turntable Synthesizer with Projection Mapping, a projection mapping system on turntables that creates an interactive surface for real-time mixing and musical composition.
"The work is insane," says CalArts Associate Dean for Research and Development in Digital Arts Ajay Kapur. "Students are coming up with ideas and projects for things I've never seen before. They view technology as another tool for artists—and are reinventing uses for existing devices and creating completely new applications to create the projects they imagine."
Also making its first appearance at the Expo is Aqua Harp, the newest addition to CalArts' acclaimed KarmetiK Machine Orchestra, an orchestra comprised of robots that interact with their human counterparts.
We posted a video of The Third Room, above, and a video of Kontrol, below.
Gesture Recognition with KONTROL hardware from jprecursor (Jon He) on Vimeo.
Event Details
Digital Arts and Technology Expo
May 9, noon-10 pm CalArts Campus Free