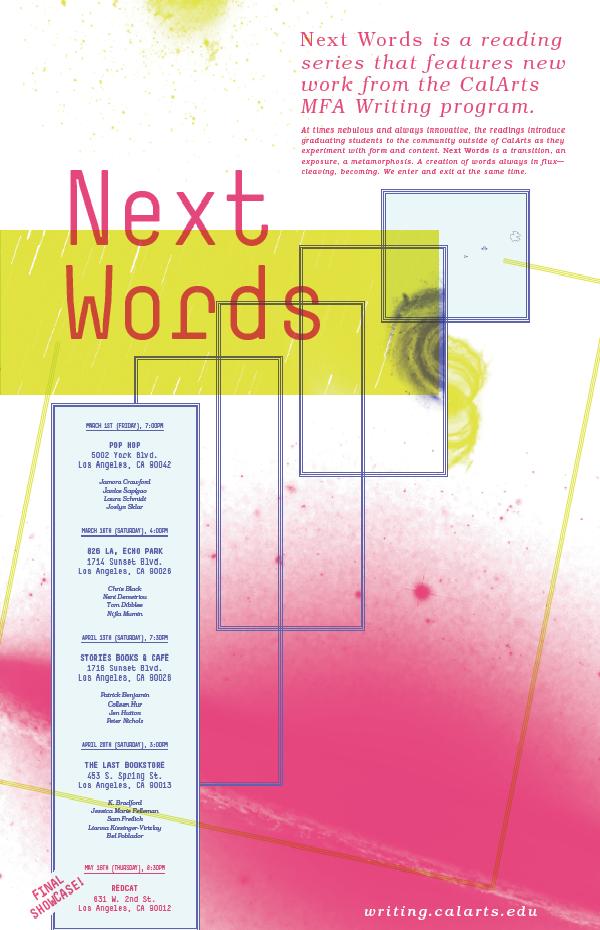 The spring semester's Next Words reading series concludes this Thursday (May 16) at REDCAT with the final showcase reading by the graduating class of the CalArts' School of Critical Studies' MFA Creative Writing Program.
Writers will read five-minute excerpts from their MFA theses. They are:
Patrick Benjamin
Chris Black
K. Bradford
Jamora Crawford
Eleni Demetriou
Tom Dibblee
Jessica Felleman
Sam Freilich
Colleen Hur
Jen Hutton
Lianna Kissinger-Virizlay
Nijla Mu'min
Peter Nichols
Bel Poblador
Janice Sapigao
Laura Schmidt
Josyln Sklar
The Next Words reading series allows CalArts MFA writers to introduce their work to the wider Los Angeles community. Along with Thursday's reading, the School of Critical studies will also release an eponymous anthology of student work, curated by Eleni Demetriou and Bel Poblador.