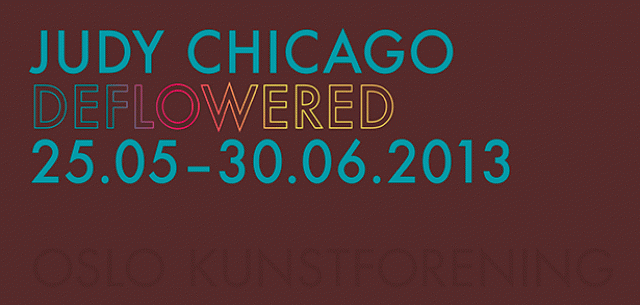 Exhibitions of two CalArtians open this week in Europe:
Judy Chicago
Oslo Kunstforening/Oslo Fine Art Society presents former faculty Judy Chicago's first solo exhibition in Scandinavia. Deflowered, which includes Chicago's works from the 1960s to the early 2000s, opened last Saturday (May 25) and runs through June 30. An eponymous catalogue with essays by gallery owner Tim Nye, writer and art critic Lucy Lippard, and curator Saul Ostrow accompanies the exhibit.
Judy Cohen, who changed her last name to Chicago in a rejection of patriarchal naming conventions, builds installations that examine the role of women in history and culture. She is best known for The Dinner Party, a massive installation of a triangular table on which rest dinner place settings for notable women throughout history, such as Emily Dickinson and Georgia O'Keeffe. In the '70s, Chicago co-founded CalArts' Feminist Art Program, along with Miriam Schapiro.
Deflowered includes Chicago's well-known Car Hoods and Fragments from the Delta of Venus (2004), prints based on the erotic writings of her mentor, Anaïs Nin. The show also includes a rare bisque test plate and runner design from The Dinner Party.
Tony Oursler
As part of the Venice Art Biennale, Espace Louis Vuitton presents a two-person exhibition Where Should Othello Go?  from June 1 through Nov. 24. The exhibit features Pompeo Molmenti's The Death of Othello, which has been restored thanks to funding from Louis Vuitton. Installed across from the painting is CalArts alumnus Tony Oursler's (Art BFA 79) strawberry ecstasy green, an audio-visual piece whose colors reference those in Molmenti's painting.
Oursler is a multimedia artist whose works can take the form of low-tech expressionistic theater. "His idiosyncratic fictions are bizarre narrative odysseys through psychosexual delirium and the detritus and artifacts of mass culture," according to Electronic Arts Intermix. Oursler's work has been exhibited at The Museum of Modern Art and Whitney Museum of American Art in New York and the Centre Georges Pompidou in Paris.
Event Details
Deflowered
May 25th through June 30 Oslo Kunstforening/Oslo Fine Art Society Rådhusgaten 19, 0158 Oslo, Norway Free Where Should Othello Go? June 1st to November 24 Espace Louis Vuitton San Marco, Calle del Ridotto 1353 Free