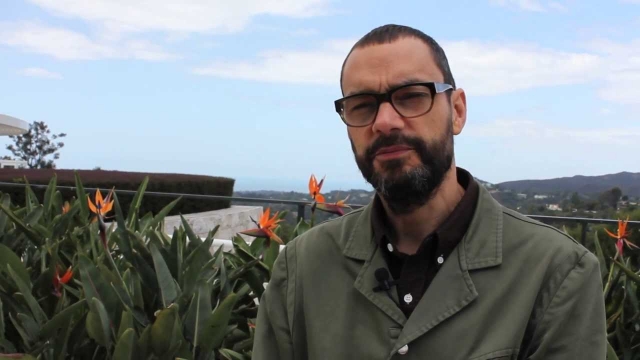 Artist and CalArts faculty member and alumnus Sam Durant (Art MFA 91) asks for your in-person or online participation in his latest project: What #isamuseum?
The multimedia work prompts visitors to the Getty Center in Los Angeles think about the role(s) museums play in contemporary life. Durant has posited questions—such as "Is a museum for everyone?" and "Is a museum political?—at unexpected places throughout the Getty campus, from the floors to tram windows to paper napkins.
Since the project launched in May, visitors have been responding to those questions from an iPad station at the Getty, creating a dialogue with those participating via the website isamuseum.org or on Twitter (using the handles and hashtags of @isamuseum, #isamuseum).
Here are a few responses posted on isamuseum.org. Some answers were serious, others were not, but all were fascinating to read:
Question: Is a museum truthful?

– A museum is truthful because everyone has their own truth.
– A museum is not truthful. It is opinionated by people with money.
– A museum is not truthful. A museum is a building not a person. It can't be truthful.
– A museum is truthful. It is always someone's truth.
– Is this like "truthiness?"
What #isamuseum is part of the Getty's ongoing Getty Artists Program, which asks one established, mid-career artist artist each year to create and implement an educational project of his or her own choosing. Durant, selected as the 2013 Getty Artist, has produced an oeuvre that touches upon a variety of social, political, historical and cultural issues.
His works have been shown throughout the world, including solo exhibitions at MOCA Los Angeles, the Municipal Museum of Contemporary Art in Ghent in Belgium and the Museum of Contemporary Art of Rome.
Other recent Getty artists have included fellow CalArts alumni Mark Bradford (Art BFA 1995, MFA 1997) in 2010 and Jennifer Steinkamp (Film/Video 79) in 2011.
Durant explains the What #isamuseum project in the video posted above.