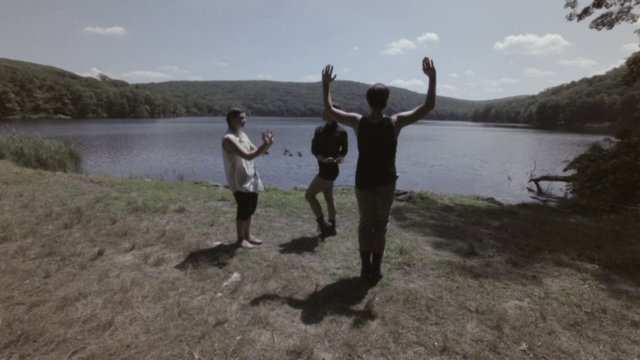 Dances Made to Order, an online dance film series, released its Edition 26 on Wednesday (July 24). The series asks three different filmmakers each month to create a five-minute dance film in two weeks inspired by the themes chosen by the Dances Made audience. Edition 26 was curated by choreographer and CalArts alumna Anna Brady Nuse (Dance BFA 99) and it features the work of filmmaker Victoria Sendra (Film/Video BFA 12) as well as David Fishel, Victoria Murphy, John C. Koch and Angela Patrinos.
The themes for this edition's dance films are "spiritual/scientific" and "blue:becoming." Nuse says that Sendra "has found a calling documenting dance with physically adventurous camera work that interacts with the choreography in surprising ways." Sendra's film, three.and.one, is described by Dances Made as a "trinity observing the juxtaposition between the city and nature; what used to be where New York City is and what is there now and what will be there in the future."
In addition to curating this project, Nuse choreographs for screen through her production company Straight to the Helicopter and directs movement-based media at Pentacle Movement Media. She also writes about dance and media for the blog Move the Frame and curates the Kinetic Cinema screening series in New York.
Above is a clip from Sendra's three.and.one. Read more about Nuse's Dances Made: Edition 26 here.
To watch all three films online, the price is $6.75 for a single ticket and $50 for a 2013 season pass (which includes all 33 films created from Jan.-Nov. 2013). Sixty-five percent of funds raised from ticket sales support the artists' work.
Update: Sendra's film also included performances by alums Mersiha Mesihovic (Dance BFA 12) and Amanda McNussen (Dance BFA 12).