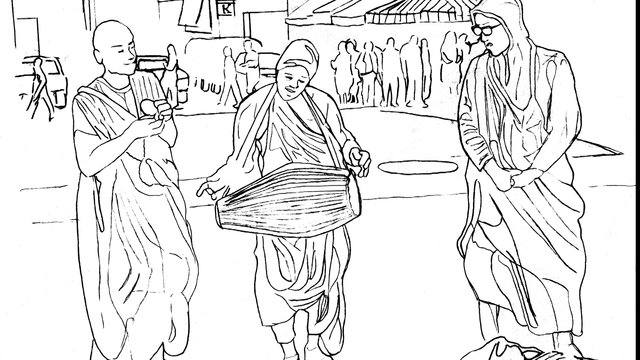 The Princess Grace Foundation-USA recently announced the 2013 winners of its Princess Grace Awards and two students from the School of Film/Video are among the award winners. Thalia Fry (Film/Video BFA 14) is a Film Award recipient for the short animation film Gloria, while Nora Sweeney (Film/Video MFA 14) is a Film Honorarium recipient for the 16mm film documentary CA-126.
Gloria follows the story of Cynthia, a backup lip singer at now defunct punk venue The Mabuhay Gardens in San Francisco. After a car accident, Cynthia slowly loses her grip on reality and starts manifesting an alter-ego, the rebellious Gloria.
Fry expressed her excitement in an email:
I am so honored to receive this award. The Princess Grace Foundation will provide me with the resources to support my budding career as an independent artist, and the encouragement to explore topics that inform my creative process. With this scholarship, I will be able to study how cultural rebellion transformed my community, and visually express this documentation in the best light possible.
Above, we posted a character and concept design video clip from Gloria.
Sweeney intends to produce something between a travelogue and an essay about California history and labor in CA-126. Shot with a 16mm Bolex camera looking through a camera obscura, the film exposes the people and the landscape along CA-126, a highway that stretches from Valencia all the way to the coast in Ventura. The old highway offers a view of old-time California as yet untouched by the manic development of suburbs.
In her project statement, Sweeney shares what she hopes to accomplish in CA-126:
I will create a documentary portrait of this area on 16mm film by juxtaposing the landscape that resembles the past with the stories of people from the present. My aim is to preserve this landscape before it becomes further developed, to investigate its history, and to engage with and document the people who inhabit it.
Steve Anker, Dean of the School of Film/Video, sent us an email to convey his elation at Fry and Sweeney's recognition:
A Princess Grace award is one of the greatest honors a student in the arts can receive, since it is given for especially ambitious projects that can only be realized with additional financial support. In addition, the Princess Grace Foundation continues to support its awardees even years after each has graduated. For this reason the award is fiercely competitive, and CalArts is proud to have had several students receive awards in recent years. The Foundation is one of the few organizations in the country that helps develop young artistic talent at precisely the time when financial support will have the greatest impact.
The Princess Grace Awards are annual grants awarded to emerging artists in theater, dance and film in the form of scholarships, apprenticeships and fellowships. Winners will receive their awards at a gala in New York City on Oct. 30.