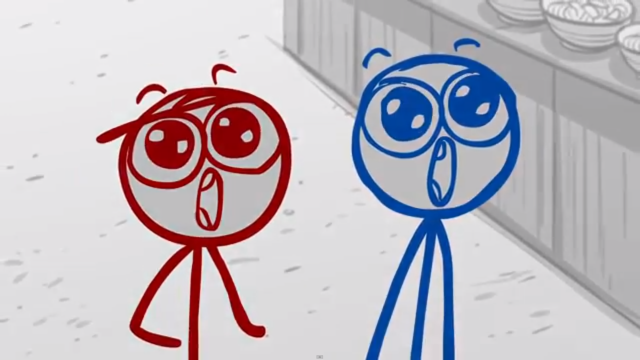 In 2010, Dick Figures, an animated web series following the comic experiences of two juvenile stick figures, Red and Blue, has tallied 49 episodes and more than 350 million views on YouTube, making it one of the most popular animated web-series to date.
A 73-minute film based on the series, Dick Figures: The Movie was released on Sept. 17 and features the work of several CalArtians, including animation executive Brendan Burch (Film/Video BFA 00), animator Nick Butera (Film/Video BFA 07) and animator John Dusenberry (Film/Video BFA 10), via the film's production company, Six Point Harness.
The film, which is still on the Animated Comedies bestseller lists on iTunes, Amazon and Google Play, utilizes a distinct distribution model. Dick Figures: The Movie is currently being released in 12 chapters over 11 weeks on the Mondo Media YouTube channel, with each chapter preceded by ads. For viewers who don't want to wait a week for each episode to be released and want to forego the commercials, they have the option to rent or download the full feature on a number of platforms.
To cover the initial costs of the project, co-creators Ed Skudder and Nick Keller raised more than $313,000 in crowdfunding for the feature project on Kickstarter last year.
"We want to give people the option to download or stream the movie from wherever they're comfortable, from wherever they have accounts, from wherever it's easiest for them to get access to the movie," co-creator Nick Keller told Mashable in a recent article. "We operate in online space, so we wanted to keep it in an online space. People don't even have to leave their couches or their desks or wherever they are."
Read more about the origins of Dick Figures on Mashable.