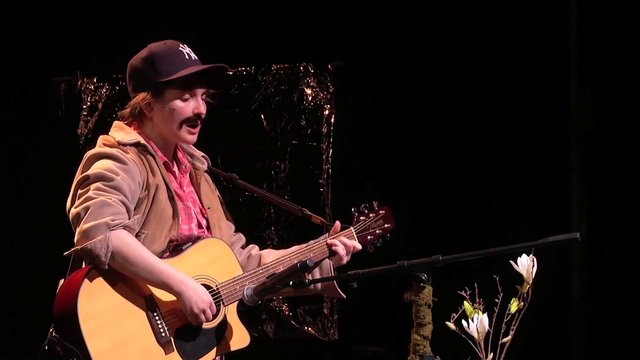 Multidisciplinary theater artist Cynthia Hopkins, a 2007 Alpert Award winner, begins a four-night engagement of her most recent work This Clement World at REDCAT tonight.
Performing with a 15-member chorus and band, Hopkins blends soulful avant-folk rock songs with video captured during her three-week Arctic voyage. In the performance piece, she portrays three different characters: the ghost of a Native American woman, an outer space traveler and a child from the not-so-distant future who lead the audience through a guided imaginary exhibit of the natural world. Through this work, Hopkins addresses the global climate crisis with "humor, artistry and immediacy."
Charles Isherwood wrote about the production earlier this year in The New York Times: "But if the issues Ms. Hopkins is addressing are already gospel truths to the liberal minded and environmentally attuned, her approach to airing them is marked by a savvy mastery of multiple media, not to mention a fiercely individualistic approach to autobiographical theater."
Cynthia Hopkins: This Clement World runs through Sunday, Oct. 27. REDCAT is offering CalArts staff, faculty and students complimentary tickets when calling the theater's Box Office with the promo code CALARTIANS.
Event Details
Cynthia Hopkins: This Clement World
REDCAT 631 West 2nd Street, Los Angeles Oct. 24-26 at 8:30 pm Oct. 27 at 7 pm 213.237.2800 General admission tickets: $20-$25 Free for CalArts faculty, staff and students with the use of the code CALARTIANS