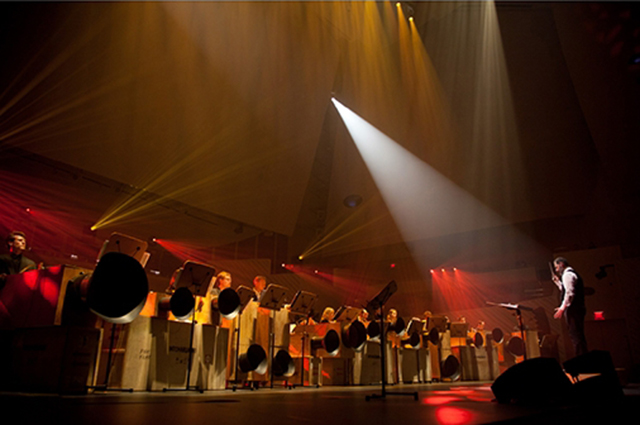 One hundred years ago this year, Futurist and Italian experimental composer Luigi Russolo (1883-1947) wrote his manifesto, The Art of Noise, signaling the beginning of an aesthetic that would influence the music of the 20th and 21st Centuries. The document argued that humans had become acclimatized to the speed, energy and noise of the industrial and urban landscape, and thus required a new approach to musical instrumentation and composition. In that vein, Russolo designed and constructed an orchestra of hand-cranked, noise-generating devices called Intonarumori in the years following.
Marking this centennial, The Orchestra of Futurist Noise Intoners, under the direction of Luciano Chessa, brings its complete reconstruction of Russolo's earliest Intonarumori Orchestra to REDCAT's stage tomorrow (Dec. 3). The ensemble, which hits the stage at 8:30 pm, includes 18 CalArtian performers.
The program focuses on compositions by Russolo and fellow Futurist Paolo Buzzi (1874-1956), as well as newly composed works by Chessa, CalArts faculty member Ulrich Krieger, Joan La Barbara, Annie Lewandowski, Theresa Wong (all also performing), among others. Under Chessa's baton, the performance features tenor Timur Bekbosunov (Music MFA 08), soprano Carmina Escobar (Music MFA 10) and 16 players operating the instruments generating the sounds of whirs and buzzes, clangs, scrapes, sirens and mechanically plucked strings.
The orchestra also includes CalArtian current students Todd Lerew (Music MFA 14), Michael Day (Music BFA 14), Braden Diotte (Music MFA 14), Conal Ryan (International Exchange Student), Marcus Rubio (Music MFA 14), Erin Poulin (Music BFA 15), Salem Yateem (Music BFA 14), Andy Young (Music BFA 14), Sharon Kim (Music MFA 15) and David Aguila (Music MFA 15). Several alums will also perform, including Josh Carro (Music MFA 13), Drew Jordan (Music MFA 13), Henry Webster (Music BFA 13), Alexander Wand (Music MFA 12) and Aidan Reynolds (Music BFA 13).
Day, who will perform one of the Intonarumori at the concert, commented via email on how Russolo's work has directly impacted today's music:
[Russolo] was recklessly critical of the music of his day and had a mouth and wit that reads like a soundcheck review in Wire.  He called concert halls "hospitals for anemic sounds," and proposed bulldozing through an orchestra "stepping and pushing over violins and pianos, bassoons and moaning organs! Let's go out!"  The Industrial Revolution transformed the landscape of cities and consequently altered the sonic landscape for their people.

A hundred years later, noise is everywhere.  Lou Reed, Throbbing Gristle, Sonic Youth and  Merzbow are a few among a host of musicians whose compositions have worked to form a genre marked "Noise." Even Top 40 music is on the take. I was listening to Lady Gaga's Applause earlier today and there's electronic smatterings of Russolo all over that track. Electronic music has become so ubiquitous that I think most noise musicians I know are looking toward less traditional instrumentation, outside of the computer. In a way, we've come full circle.  Bored with contemporary music, we're ready to smash laptops instead of violins and pianos. That's what's exciting about this show, the opportunity to play noise on these handmade instruments that are full of character; the imperfections and unpredictability you find in traditional instruments.
In the video above, The Orchestra of Futurist Noise Intoners performs the Intonarumori.
Event Details
The Orchestra of Futurist Noise Intoners
REDCAT Dec. 3, 8:30 pm Tickets: General $20, Students/Members $16, CalArts Faculty/Students/Staff $10