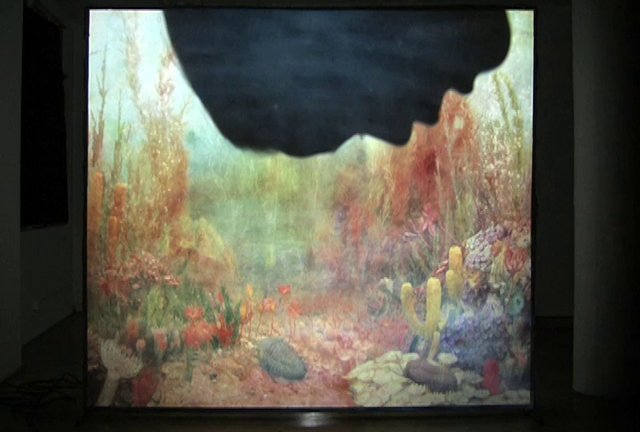 From Jan. 16 through 26, cinephiles flock to Park City, Utah, for the Sundance Film Festival, one of the biggest independent film festivals in the United States. Two films by CalArtians are slated to screen at the illustrious festival.
Deborah Stratman's (Film/Video MFA 95) Hacked Circuit, on the Documentary Shorts Program, is a choreographed portrait of the Foley process, shown in a single shot. Foley artist Greg Barbanell (Film/Video BFA 77) is shown doing sound design over the final sequence for the film The Conversation, wherein Gene Hackman's character tears apart his room in search of a bug he suspects to have been planted. It is a film that exposes the typically invisible support mechanisms of filmmaking, while posing questions about government violations of privacy.
The New Frontier Program at Sundance is a forum for expanding and playing with the boundaries of traditional storytelling, and Miwa Matreyek's (Film/Video MFA 07) experimental performances This World Made Itself, Myth and Infrastructure and Dreaming of Lucid Living are a perfect fit. Matreyek incorporates her own silhouette over live projections to create theatrical presentations. Dreaming of Lucid Living was Matreyek's CalArts MFA thesis project and together with Myth and Infrastructure, were produced with the help of The Princess Grace Awards Matreyek won while studying at CalArts. Both of those films have been shown in festivals around the world, while This World Made Itself makes it world premiere at Sundance. Above is a preview of the experimental animation.
CalArtians at Slamdance Film Festival
Just a snowball's throw away from Sundance's red carpets and spotlights, the Slamdance Film Festival takes place from Jan. 17 through 23 at Treasure Mountain Inn, also in Park City. Although smaller in scope and venue, Slamdance has been described as "a vital alternative" to Sundance. CalArtians are making a strong showing in this festival, particularly in the short-film programs.
Lori Damiano's (Film/Video MFA 04) Lord I: The Records Keeper, Sean Buckelew's (Film/Video MFA 14) Another and Vita Weichen Hsu's (Film/Video MFA 13) A Tongue Silent Like Your Words are all screening in the Animated Shorts Program. Lord I: The Records Keeper follows a character as she's summoned to The Kingdom of They and tasked to record everything that happens. As she does her job, she realizes that she does not see anything that is really going on, but rather only sees her preconceptions. Another screened earlier this year at the CalArts Character Animation Producers' Show. Buckelew's film follows a bear who, after killing the patriarch of a family, takes the patriarch's place and finds himself entangled in domestic tensions. In A Tongue Silent Like Your Words, two pencil animated figures entwine in a dance of desire.
Two shorts from current CalArts students have also been selected for the festival's Anarchy Shorts Program. A beautiful boy finds himself in a scene that may or may not be welcoming in Rachel Ruizhen Ho's (Film/Video BFA 14) Welcome. Jess Iglehart's (Film/Video BFA 14) White Hot Grid is an experiment in 1980s commercial motion graphics.
Slamdance's Experimental Shorts Program also screens Naoka Tasaka's (Film/Video MFA 11) much-lauded Flower, a "sphinx-like allegory that plumbs the depths of physical and metaphorical surfaces."
Below, we posted Iglehart's White Hot Grid.