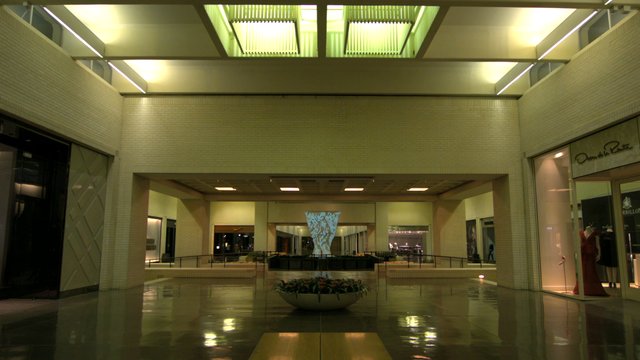 CalArts alumna Kerstin Hovland (Film/Video MFA 12) and School of Film/Video faculty member and alumnus Emery Martin (Film/Video BFA 08) teamed up with artist Charles Long to code and help video design two of the sculptor's latest installations, which are currently on view in Texas galleries this month.
Long's interactive sculpture, Fountainhead, is currently installed at the Northpark Center in Dallas through Feb. 16, as part of the city-wide Nasher Sculpture Center's Nasher XChange exhibition. The project features creative coding, iOS programming and video design by Hovland and Martin, through their company Electronic Countermeasures, LLC. The sculpture accepts credit card donations through an iPad that benefit one of three local Dallas charities: Bookmarks, Dallas CASA and the North Texas Food Bank.
Long, who lectured at CalArts in Fall 2012 as part of the School of Art's Paul Brach Lecture Series, also presents another work in Texas this year titled CATALIN, which opens on Jan. 18 and will be on view through April 20 as part of the Charles Long exhibition at The Contemporary Austin's Jones Center. The newly commissioned immersive environment, to which Martin and Hovland contributed work, is described by the museum as "a cacophony of sensory stimulation haunted by an ethos of impending doom."
More from The Contemporary Austin:
Long will manifest a transformative installation at the Jones Center, turning the space into a mysterious and mystical Gesamtkunstwerk, a Wagnerian hybrid environment of sculpture, film, music, fragrance, theater, performance, and grand spectacle.
The Charles Long exhibition at The Contemporary Austin also features a new animated piece by Hovland, with sound by Martin, titled Lamentatio Solastalgia. Hovland describes the project as "a lament for environments lost or irreparably damaged by human progress."
Martin also contributed a separate work to the exhibition, titled Databergs, which is composed of seven data-driven 3D printed pieces. Read more about the work on Martin's site.
Below, is a detail of the dollar bill particle system that Martin developed for Fountainhead, demonstrated through a Vine video:
Event Details
Charles Long Exhibitions in Texas
Fountainhead Northpark Center , Dallas, TX On view until Feb. 16 Free CATALIN Jones Center 700 Congress Avenue, Austin, TX On view Jan. 18-April 20 Tickets: Adults: $5; Seniors & Students: $3; Members, Under 18 & Military: free; Tuesdays: free