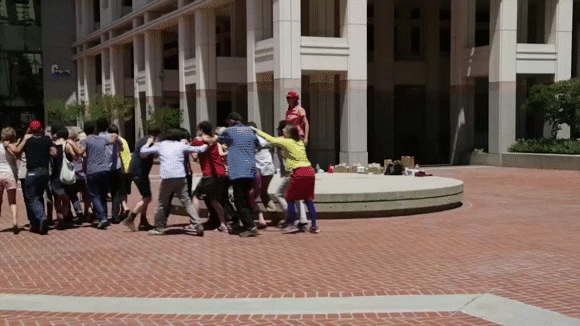 Artist and CalArts faculty member Sara Roberts recently wrote an article for KCET's Artbound discussing her ongoing audience-participatory project, Clump & Whistle, which was performed with the support of local arts collective Machine Project last summer in Glendale (see the video above).
Roberts, who teaches in the Composition and Experimental Sound Practices programs and the Center for Integrated Media at CalArts, has investigated the topic of collective experiences by making "clumps" with various groups of people for the last decade. The exercise of "clumping"–physically connecting people to other strangers in order to perform certain tasks as a group–consistently yields surprising results about human behavior, says Roberts.
"The thing about clumps is that almost always, they become fairly unmanageable," Roberts tells poet Joshua Beckman in the article. "[It's about] the base nature of people leaving their own selves and becoming their unknowing selves."
In the animated .gif below, two clumps battle over the same "pupa," or prize, even though there is one pupa available for each clump.
Roberts was inspired by Swiss and British modernist writer and Nobel laureate Elias Canetti, whose book Crowds and Power examines the formation and dissolution of crowds, the manipulation of power within crowds, mass psychology and the dynamics of social life.
Read Roberts' article here. Above is a video of the performance of Clump & Whistle with Machine Project last summer.