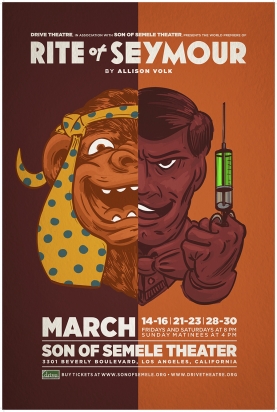 A year after It Came From the ____!, producer and CalArts alumna Kathleen Reinbold (Theater MFA 12) is back with the world premiere of The Rite of Seymour, an absurdist comedy that explores the hilarity and depth of love, opening Thursday (March 13) at Son of Semele Theater in Silver Lake.
Written by actress and playwright Allison Volk, The Rite of Seymour follows Helena Gray, who has found out that her eloquent poet of a husband, Seymour, has devolved into a chattering monkey the day she's supposed to host a party. Helena must then act the perfect hostess while solving the mystery of her husband's condition and hiding the problem from all her guests, including a publisher interested in Seymour's work.
The play also features several other CalArtians, namely actor Jeremy Kinser (Theater BFA 12), lighting designer Anna C. Martin (Theater MFA 12), costume designer Lynne Marie Martens (Theater MFA 12), scene designers Caity Watson (Theater MFA 13) and Kristin Showalter (Theater MFA 13) and stage manager Fred Fitzgerald (Theater MFA 13).
The Rite of Seymour runs four days a week, with $10 tickets on Thursday and matinee Sunday performances, through March 30.