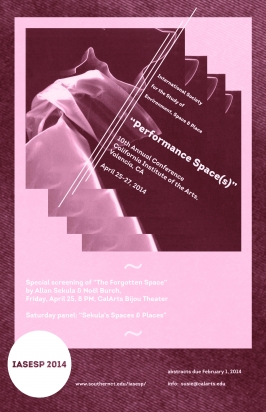 This week, the International Society for the Study of Environment, Space and Place holds its 10th annual conference, Performance Space(s), at CalArts. As part of the conference, the late CalArts faculty Allan Sekula's final film, The Forgotten Space, will be screened on Friday (April 25) at 8 pm in the Bijou Theater, followed by a panel discussion titled, Sekula's Spaces & Places, on Saturday (April 26) at 3 pm in Roy O. Disney Music Hall.
Both the screening and panel discussion are open to the public.
Sekula's film essay, which was co-directed with film critic Noël Burch, sheds light on the people marginalized by the global transport system. Watch the trailer here.
The conference aims to foster interdisciplinary and trans-disciplinary dialogue concerning the nature of place/space and the geographical moment of experience. More about this year's theme via the conference's website:
Beyond the stage and the stadium, performance is an integral aspect of human interaction. The conference seeks to explore how space or place can shape performance and how performance can transform a space or place.
"Scholars from many diverse disciplines are attending from Belgium, Tasmania, New Zealand, Yucatan, and the UK, as well as from throughout the US," says Susie Allen, a long-standing society member, faculty and Herb Alpert School of Music at CalArts Associate Dean.
Sekula's documentary and some of his short films were screened last fall in a program honoring his work at the Los Angeles Filmforum at MOCA.
Event Details
Allan Sekula's 'The Forgotten Space'
April 25, 8 pm Bijou Theater, CalArts Free 'Sekula's Spaces & Places' Panel Discussion Roy O. Disney Music Hall, CalArts April 26 at 3 pm Free