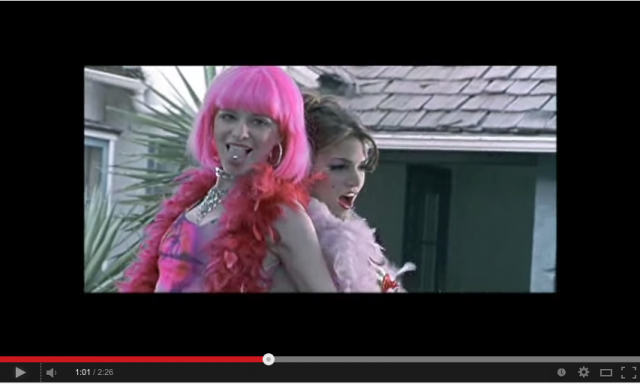 If there were just one takeaway from Catherine Hardwicke's recent guest lecture at CalArts, it could be summed up in three words: Do your homework.
The writer, director and production designer came meticulously prepared as she spoke to a class of Film Directing Program students and guests on April 3 about her work and career. The in-depth presentation included storyboards, film clips and a step-by-step examination of several key scenes from her films, Thirteen, Lords of Dogtown and Twilight.
After more than a decade spent as a production designer on such films as Tombstone, Tank Girl and Vanilla Sky, Thirteen (2003) was Hardwicke's first foray as a feature film director and writer (she co-wrote the script with the film's young co-star Nikki Reed, a family friend). She knew that she had to earn the cast's and crew's respect from the outset.
"I told myself, 'I've got to be as prepared as I can,'" she told the class about that first directing endeavor. "I plan out almost every shot.
"So, if you ever get the chance [to direct a feature] make it count."
Her early career preparation also entailed taking as many writing, directing, comedy improv and media training workshops as possible—not only to help hone technical skills, but to also better communicate with actors in front of the cameras and the crew, behind.
Hardwicke has worked on both small- and large-budgeted films and advised the directors in attendance to become "efficient about shooting" no matter the budget.
She walked the class through particular scenes in Thirteen, explaining the use of her A and B cameras (primary and secondary). She also discussed at length the rehearsal and stunt processes involved in staging this fight scene from Twilight:
In a free-flowing Q&A session that went past the time allotted for the seminar, students asked about her approach to directing—from the use of storyboards to methods of working with personalities on set to the rehearsal process (some of her Thirteen cast even lived together for a few days before shooting).
Her answers were candid and refreshingly honest. "You're the director," she told the class. "You just have to do it, no one's going to f*cking do it for you."
Hardwicke's next project was announced Tuesday in Variety. She will helm Miss You Already, a dramedy with Rachel Weisz and Toni Collette set to star.